Chicago's Aguijón Theatre Presents Yerma April 25
April 12, 2010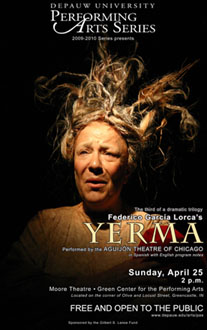 April 12, 2010, Greencastle, Ind. — A young wife's desire for a child drives her to desperation in Yerma, a play set in rural Spain roughly 80 years ago. The Aguijón Theatre of Chicago will perform Yerma at 2 p.m., Sunday, April 25, in Moore Theater of the Green Center for the Performing Arts, as the final installment of DePauw University's 2009-10 Performing Arts Series. The production -- performed in Spanish with English program notes-- is presented free of admission charge and is open to the public.
Yerma is the third and concluding play in Federico García Lorca's tragic trilogy, which includes House of Bernarda Alba and Blood Wedding, both previously performed at DePauw by Aguijón. Written in 1934, its implied criticism of Spanish conservatism is widely considered to have contributed to Lorca's assassination in 1936. So controversial was the entire trilogy that it was banned in Spain until the early 1950s.
Today, Yerma is celebrated as it resonates with modern audiences through its overt challenges to cultural and social constructs. This production of the play was featured at the third annual Goodman Theatre of Chicago's Latino Theatre Festival in 2006 and included a unique collaboration with Luna Negra Dance Theater, a local Latino dance company. The festival is renowned throughout the Latino community for bringing an exciting mix of local, national and international theatre companies to the Goodman.
Founded in 1989 by actress and director Rosario Vargas,
the Aguijón Theatre of Chicago aims to create Spanish‑language theatre that "stings" the social consciousness of its audience and strives to eliminate cultural and linguistic barriers. To these ends, Yerma is a gripping piece contrasting passion and frustration, marriage and nature, and jealousy and friendship.
The production is recommended for mature audiences.
For additional information contact Ron Dye at (765) 658-4689 or e-mail rdye@depauw.edu. For further information on the Performing Arts Series, click here.
Back