Autism Treatment Center Led by Craig Erickson '99 Receives Grant for Research
November 25, 2010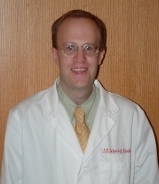 November 25, 2010, Greencastle, Ind. — "Traditionally, social-skills training is conducted by therapists, but we really believe that having peers model behavior is an invaluable development," says Craig A. Erickson, M.D., chief of the Christine Sarkine Autism Treatment Center at Riley Hospital for Children in Indianapolis. Dr. Erickson, a 1999 graduate of DePauw University, is interviewed in the Indianapolis Star about a U.S. Department of Defense grant his center has received "to study whether children ages 5 to 11, with autism, would benefit from 10 weeks of social-skills therapy with peer trainers."
Erickson notes, "An adult is never going to be able to exactly replicate a social interaction, the give and take that you have from a peer. We combine this treatment with or without medicine, either a placebo sugar pill or an active drug, prior to the therapy session to open up the mind and brain."

Craig Erickson majored in chemistry at DePauw. He earned his M.D. from the University of Cincinnati College of Medicine and served his residency at the Indiana University School of Medicine.
Read more at IndyStar.com.
Back