Bernard Kilgore '29 to Lead Board of Trustees
February 5, 1965
February 5, 1965, Greencastle, Ind. — Bernard Kilgore, president of Dow Jones & Company and the Wall Street Journal and 1929 graduate of DePauw, was today elected president of the University's Board of Trustees and Visitors. The 56-year-old Kilgore succeeds Glenn W. Thompson, board chairman of Arvin Industries, who had led the board for the past 10 years.
The 49-member board also named J. Kurt Mahrdt '28, president of the Indianapolis-based Indiana National Bank, as vice president.
Bernie Kilgore has been a DePauw trustee since 1954. He also serves on the economic advisory council of Princeton University, and on the boards of Phi Gamma Delta national fraternity and the hospital in Princeton, New Jersey.
Kilgore's 26-year association with Dow Jones and its business newspaper began in 1929, a few months after his graduation from DePauw with Phi Beta Kappa honors. After early assignments on the West Coast, in New York City, and Washington, D.C., he returned to New York in 1941 as the Journal's managing editor, then became vice president and general manager in 1942. Three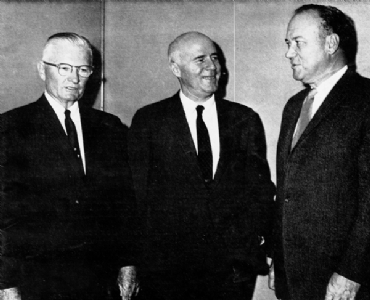 years later he was named the company's president. (photo, l-r: Thompson, Kerstetter and Kilgore)
He has been national treasurer of Sigma Delta Chi, the journalism honorary founded at DePauw, and is the co-author of a book about journalism.
"I want most admirably, gratefully and affectionately to say that Glenn Thompson's wisdom, devotion and creative contribution to DePauw are simply amazing," noted DePauw President William Kerstetter. "His skill in policy definition and winning goodwill and cooperation, his high standards and devotion to the church, his far-seeing and steady vision, his personal warmth, charm and capacity to inspire and encourage are indeed a rare, a unique, admirable and never-to-be-forgotten combination."
Back