Cincinnati Columnist Praises Prof. Tom Chiarella's Thursday's Game
July 14, 2011
July 14, 2011, Greencastle, Ind. — The Cincinnati Enquirer's Paul Daugherty recommends Thursday's Game, "A guy book for guy golfers. Tom Chiarella is an English professor at DePauw, a regular contributor to Esquire and someone I'd like to drink many sodas with. And smoke cigars. And play 18. Like, every day. Reading this collection of essays about what it means to be a guy and a hack makes you want to pick up your clubs and go. Every time."
In singing the praises of Chiarella's Thursday's Game and Golf in the Kingdom by Michael Murphy, Daugherty declares, "There are other golf books. Most are overly sentimental and dopey, or they take the game way too seriously. The two above are the best I've read, and I've read a lot. TML says check 'em out."
Access the item at the newspaper's website.
Tom Chiarella, visiting professor of creative writing at DePauw University, was part of a team that earned a 2009 national award from The American Society of Magazine Editors. He is the author of three books -- Foley's Luck, Writing Dialogue and Thursday's Game: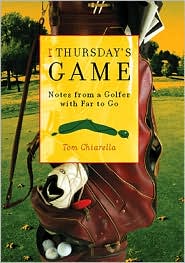 Notes from a Golfer with Far to Go -- and his work was included in The Best American Magazine Writing 2009.
In 2004, Sports Illustrated wrote that Thursday's Game "collects recent articles, which range from ruminations on afternoons with his regular foursome, to think-pieces on pros like Sergio Garcia and John Daly (the latter of which is essential reading). What holds the book together is the easy, meditative rhythm of Chiarella's prose, which somehow seems closely related to hitting balls on the range."
Learn more about the professor in this recent article.
Back