Russell Freeland '51 to be Inducted Into Indiana Basketball Hall of Fame
January 30, 1998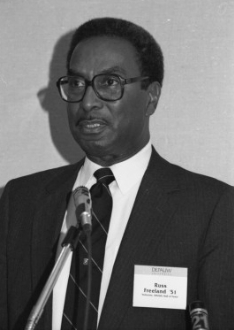 January 30, 1998, Greencastle, Ind. — "Naperville resident Russell Freeland needs to find more room on his walls next to pictures of his children and grandchildren," begins an article in the Naperville Sun. "That's because Freeland will be inducted into the Indiana Basketball Hall of Fame's 37th Class at a March 25 banquet in Indianapolis. After a long career as a basketball player and an official, Freeland has earned a number of honors, including induction into the DePauw University Hall of Fame in 1989." (photo: Russ Freeland at the DePauw induction ceremony)
Being honored, says Freeland, "gives you an opportunity to be proud, but also to reminisce."
The newspaper notes that Freeland, a 1951 DePauw graduate, is now retired after working as a consultant for Navistar International Transportation Corporation.
A four-year starting guard on the Tiger basketball team and its leading scorer during the 1949-50 season, Russ Freeland also was the first black student to play varsity football at DePauw. He earned four varsity letters in basketball, three in baseball and one in football, and he was a member of the "D" Men's Association four years.
A Rector Scholar at DePauw, Freeland later was appointed by Indiana Governor Roger Branigin to a four-year term on the Advisory Council to the Commissioner of the Department of Corrections, and he served on Vice President Hubert Humphrey's Task Force on Youth Motivation. He was elected to the Indiana Silver Anniversary All-State High School Basketball team in 1972 and to the National Association of Basketball Coaches' Silver Anniversary All-America Team in 1976. An Indiana high school and small college basketball referee for 14 years, in 1965 he became the first black to officiate in an Indiana high school basketball sectional tournament.
Back