Attorney and Activist Jason Kreag '97 Speaks on 'Flaws of the Justice System' Monday
January 12, 2012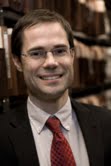 On Monday, January 16, DePauw University will celebrate the legacy of Dr. Martin Luther King Jr. with a presentation by Jason Kreag, a 1997 DePauw graduate. A staff attorney at the Innocence Project in New York City, Kreag represents individuals seeking to establish their innocence in post-conviction proceedings. His presentation, "Our Capacity to Suffer: Innocence Shining Light on the Flaws of the Justice System," will take place at 7 p.m. in the ballroom of the Memorial Student Union Building, and is free and open to all.
In addition to his work with the Innocence Project, Kreag also regularly consults with attorneys handling post-conviction innocence and DNA issues in capital and non-capital cases. He also supervises students in the Innocence Project clinic and is an adjunct professor at Cardozo School of Law.
Prior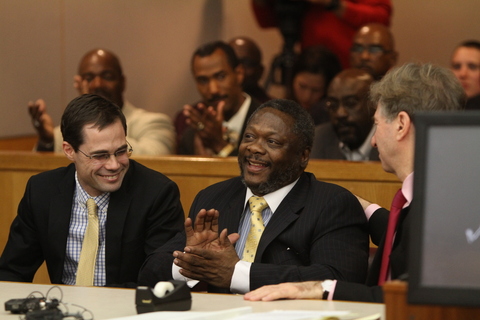 to joining the Innocence Project in October 2007, Kreag worked as a staff attorney at the Southern Center for Human Rights, where he represented inmates on death row in Alabama and Georgia in state and federal post-conviction proceedings.
After earning a B.A. in economics from DePauw (where he was a Rector Scholar and graduated summa cum laude), Kreag received an M.A. in Philanthropic Studies from Indiana University – Indianapolis in 1999, then graduated from Harvard Law School in 2003. (photo, from January 4, shows Kreag with Rickey Dale Wyatt, who was cleared after serving nearly 31 years in prison for a rape that DNA and other evidence proved he did not commit. At right is Barry Scheck, co-founder of the Innocence Project.)
At DePauw Kreag was a Management Fellow, a Bonner Scholar, a member of the men's basketball team, and the Walker Cup honoree his senior year.
Professor Gary Lemon, director of the Robert C. McDermond Center for Management and Entrepreneurship, recalls a speech Kreag made after his Management Fellow internship at the National Coalition for the Homeless in Washington, D.C. Kreag's account of undertaking the "urban plunge" -- going homeless for two days in Washington with just a quarter in his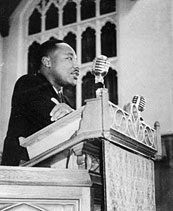 pocket –- "was one of the most inspiring speeches I've ever heard," says Dr. Lemon. "Jason is one of the brightest and nicest students I've been associated with in my career." (at right: Dr. King speaking at Gobin United Methodist Church on the DePauw campus, September 5, 1960)
Kreag was featured in USA Today in 1997. His speech at DePauw's commencement in May of that year is embedded below.
For more information, call (765) 658-4850.
Back