Cotherman's Two Late Goals Lift DePauw to Win over Allegheny
October 27, 2012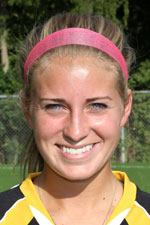 Greencastle, Ind. - With two goals in a 6:15 span, Angela Cotherman forced overtime and then delivered a game-winning score as DePauw topped Allegheny, 2-1, in North Coast Athletic Conference play.
The Tigers improved to 5-10-1 overall and finished 4-3-1 in NCAC play, while the Gators dropped to 9-8-1 overall and 4-4 in the conference.
The win, coupled with Denison's loss at Wittenberg, gave DePauw a berth in the NCAC Tournament which starts on Wednesday. The Tigers earned the fourth seed and will travel to Wittenberg for a 7 p.m. semifinal contest.
The teams battled through 70 minutes of scoreless play before Michelle Holcomb put Allegheny ahead on an assist from Sarah Shindler at 70:06.
Cotherman's first score came with just 3:22 left in regulation and her game winner was just 2:53 into the first overtime.
Allegheny held a 12-5 edge in shots including a 4-2 margin in shots on goal. The Gators also led in corners, 8-1.
DePauw's Caroline Kerr totaled three saves in goal, while Kylie Mason was unable to stop the only two Tigers' shots on goal.
For more information on the DePauw women's soccer program, follow DePauw on Twitter (@DePauwAthletics / @DePauwWSoccer) or like them on Facebook (www.facebook.com/DePauwAthletics).
Back