Students from DePauw and Local Middle & High Schools Present 'Fall Festival of Shakespeare'
December 2, 2013
[UPDATE 12/6 - The performances scheduled for Friday, Dec. 6 have been postponed due to weather conditions; 12/9 - The show has been rescheduled for Friday, Dec. 13.]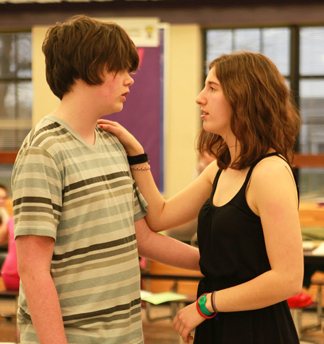 A twelve-week-long collaboration between DePauw University, all eight Putnam County middle and high schools, and Shakespeare & Company will lead to the presentation of Shakespeare plays on campus this weekend. You're invited to enjoy DePauw's Fall Festival of Shakespeare, which will take place Friday, Dec. 6 and Saturday, Dec. 7 in Moore Theatre, located within the Judson and Joyce Green Center for the Performing Arts.
This program is based on a nationally recognized and awarded program started by Shakespeare & Company in Lenox, Massachusetts. At DePauw, college students are trained to work with high school and middle school students and teach the material in a trustworthy and exciting environment by going into the schools every week. The younger students learn to use their bodies and voices through Shakespeare's demanding yet rewarding plays.
Students from Clove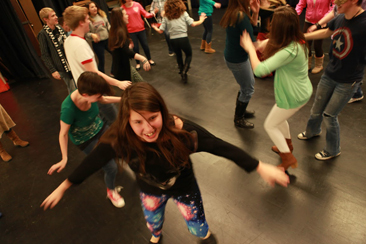 rdale Middle School and High School will perform The Taming of the Shrew Dec. 6 at 6 p.m.; Greencastle Middle and High School will perform Romeo and Juliet Dec. 6 at 8 p.m.; North Putnam Middle and High School will perform The Merchant of Venice Dec. 7 at 3 p.m., and South Putnam Middle School and High School will perform As You Like It Dec. 7 at 5 p.m.
"Shakespeare is the ideal script to put into the hands of adolescents," according to Amy Hayes, director of the program. "They don't have epic language,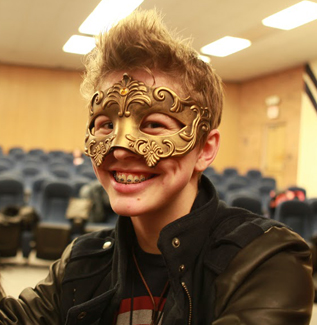 but everything they experience is epic. We're not doing Shakespeare for young people. It's not children's theatre. We're doing Shakespeare with young people."
The DePauw student directors include Grace Lazarz, Laura Drew, Kya Simmons, Lanie Gleeson, Alissa Britigan, Carter Gorman, Brittney Biddle, Alison Howard, Henry Johnston and Kay Wood.
Tickets for each play are $3 for students and $6 for adults and are available at http://www.brownpapertickets.com/event/458846. For more information, click here.
Back