Men's Swim Team's Training in Florida Noted in Report
January 1, 2014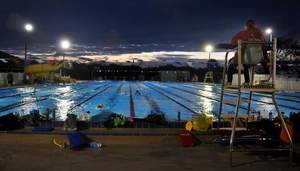 The men's swimming team from DePauw University is among "11 teams -- from as far as Quebec, Canada -- that will have trained here between December and February, taking advantage of mild winters and bringing a boost for hotels and businesses in Cocoa Beach," reports Brevard County's Florida Today. The newspaper's Norman Moody writes, "For the teams, it is a chance to train during the winter without the distractions of studies, friends and activities that could draw their attention away from training." (top photo: Malcolm Denemark/Florida Today)
Sara Williams, manager of the Cocoa Beach Aquatic Center, states, "It helps not only here at the pool, but it helps in the city." She adds, "It's not just about the pool, but the community.
Access the story, which includes a photo the Tigers in training, here (a subscription may be required).
For the latest on the men's swimming and diving program at DePauw, visit the team's official online page.
Back