Bill Wagner to be Inducted Into College Sports Information Directors of America Hall of Fame
February 27, 2014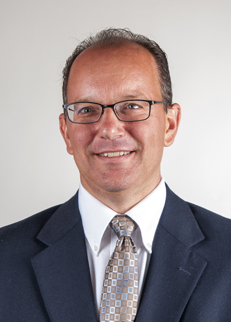 Bill Wagner, who has served as director of sports information at DePauw University since 1986, is among five individuals who will be inducted into the College Sports Information Directors of America (CoSIDA) Hall of Fame. Wagner and the other 2014 honorees will be inducted June 9 at the organization's 57th annual national convention at the World Marriott Center in Orlando, Florida.

CoSIDA is composed of more than 3,000 intercollegiate athletic communications and media relations professionals from colleges, universities and athletic conferences at all divisions of competition in the United States and Canada. The CoSIDA Hall of Fame honor is presented to members of CoSIDA who have made outstanding contributions to the field of college athletic communications. Wagner was selected by a vote of over 80 CoSIDA Hall of Famers.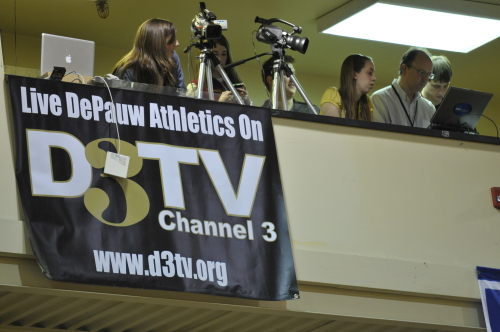 Wagner oversees coverage and communication for all 23 DePauw varsity athletic teams. A member of the CoSIDA board of directors from 2005-08, he became the founding president of D3SIDA (Division III SID management group) in 2008, leading the new organization for three years, despite only signing on for a two-year term. He also serves as a member of the D3SIDA board. Since 2002, Wagner has worked as a district coordinator for the Capital One Academic All-America® program. (photo at left shows Wagner, behind laptop computer, at work in the Lilly Center's press box)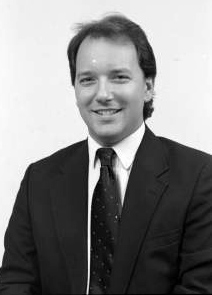 Wagner received his bachelor's degree from Miami University in Ohio and earned a master's degree in sports management from Ohio State University.
"Bill has put his heart and soul into his long-time efforts to show the very best of DePauw's athletics to the world," says Christopher Wells, vice president for communications and strategic initiatives. "We are very fortunate to have him at our university, and extremely proud of this honor he has been given." (at right: 1989 photo)
Read more here.
Back