NFL Executive Joe Schoen '01 is Profiled
May 31, 2014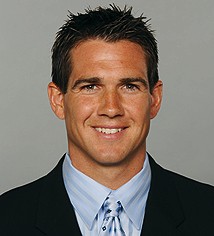 "I want to build a championship football team," says Joe Schoen, the 2001 graduate of DePauw University who was recently appointed director of player personnel with the Miami Dolphins. He tells his hometown newspaper, the Elkhart Truth, "I want to find as many good football players as I can, evaluate all the intangibles we can bring to our lockerroom. That's the ultimate goal. That's what motivates me. That's the exciting part."
The article notes, "Life lessons, Schoen said, are everywhere. He learned them well, he said, from a collection of coaches near and dear to his heart -- Steve Johnson, Dan Randolph and Phil Teegarden from his Memorial High School years, and Nick Mourouzis, DePauw University's all-time winningest football coach. 'If you learn how to work as hard as you can and then you'll know no difference. That's always resonated with me,' Schoen said. And through his mentors, Schoen said he learned to trust his own instincts even if others weren't as sure of him."
Bill Beck reports, "During his 12 years in the NFL -- the last five with Miami in its college scouting team after seven years with Carolina -- Schoen logged countless hours and endless miles observing college players and assessing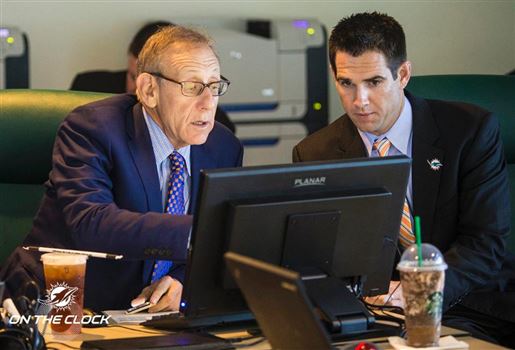 levels of on-field skill. He also tried to look deeper to sense the level of desire and competitive motor in each player." (at right: Dolphins owner Stephen Ross and Joe Schoen during the recent NFL draft)
A communication major at DePauw, Schoen was a three-year letterman at DePauw University (1997-2000). He played quarterback as a freshman and wide receiver his final three years. He says as a scout it's better to "be wrong with your opinion rather than be wrong with someone else's. Sometimes you find athletes who aren't as talented, but who you know will outwork others ... the intangibles. You're not going to be right on everybody. You just have to stand by your convictions."
Access the full story at the newspaper's website.
Back