Fox Anchor Bret Baier '92 Authors Special Heart
June 3, 2014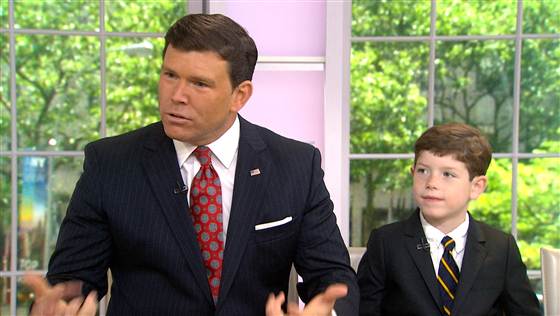 "It's a powerful thing," says Fox News Channel anchor and 1992 DePauw University graduate Bret Baier, of the story told in his new book, Special Heart: A Journey of Faith, Hope, Courage and Love. The newsman writes of his son Paul, now six years old, who was born in 2007 with five congenital heart defects. He had his first heart surgery at 12 days old and has had a total of three open heart surgeries, seven angioplasties and a stomach surgery.
In an interview aired this morning on NBC's Today -- one of a number of media appearances set to mark the book's release today -- Bret and Amy Baier joined their sons, Paul and Daniel, to talk about their experiences.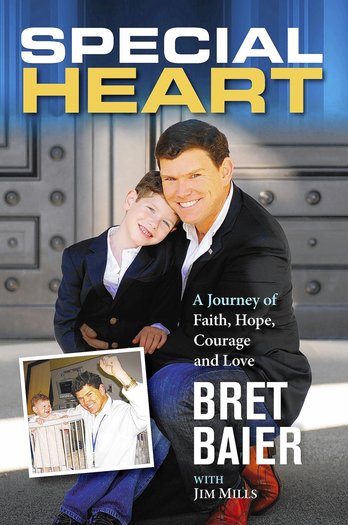 "We hope to make awareness about what people can do to get through it: one, accept the help that family and friends give; two, make sure you're healthy because you're not good for anybody if you're not healthy; and three, think about the other end of the story," Bret Baier told Kathie Lee Gifford and Hoda Kotb. "Just think about what it's like to get to the light at the end of the tunnel. (Paul's) doing great!"
In an interview with the Chicago Tribune, Baier notes, "The silver lining to something as horrible as this is that we found a cause for our charity work (Baier says he's donating all of his book proceeds to pediatric heart research) and it also gives me perspective as a person and as an anchor. I can be up here on Capitol Hill with the back-and-forth and two parties at each other's throats and I come at it from a different place than I did before. I realize now how important it is to pull away from work and really be off during you're time off.
Read more at the show's website. Video of the segment is embedded below.
An English (composition) and political science double major at DePauw, Baier captained the Tiger golf team and was among the first students to work in the then-new Center for Contemporary Media. While a DePauw student, he interned with Bernard Shaw at CNN and landed his first professional job at WJWJ-TV (PBS) in Beaufort, South Carolina. He also worked at WREX (NBC) in Rockford, Illinois, and WRAL (CBS) in Raleigh,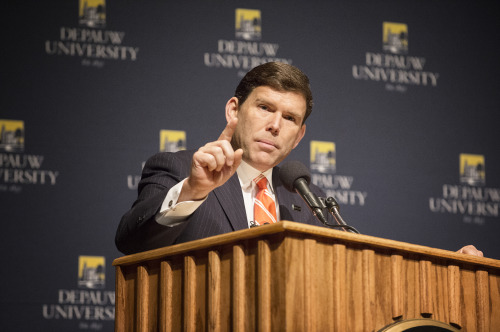 North Carolina, before joining Fox in 1998. Before being named anchor of Special Report, he served as the network's national security correspondent and chief White House correspondent.
Baier returned to DePauw for Old Gold on October 12, 2013, and spoke as part of the Timothy and Sharon Ubben Lecture Series and received the University's Distinguished Alumni Achievement Award. "DePauw is a big part of who I am, it's a big part of who I became, and I really like coming back here," he told the homecoming audience.
The talk is summarized here; a video montage is embedded below.
Back