To Foul or Not? Paper by Coach Bill Fenlon Cited in South Carolina Newspaper
February 16, 2015
In basketball, "Fouling [when] up three [points] is one of those open-ended debates that really doesn't have a consistently right answer," writes Bret McCormick in the Herald of Rock Hill, South Carolina. "So many variables influence the situation and each instance is its own unique little snowflake."
He notes, "Studies have been conducted, and most coaches have taken one side or the other. [Winthrop men's basketball coach Pat] Kelsey seems pretty set on fouling when ahead by three points, and two freak losses will likely not change that. Kelsey's obstinacy in sticking with his choice is supported indirectly by DePauw University's 23-year basketball coach Bill Fenlon. He said in a paper he wrote on the subject, 'It's not about the chances in this moment. It's about the chances in this situation every time it occurs. You can't be like the guy at the roulette table who has his money on red, watches black come up six times, changes his bet and then it comes up red...' "
McCormick adds, "Fenlon's won 65 percent of his games at DePauw, a pretty good number, so he might be on to something."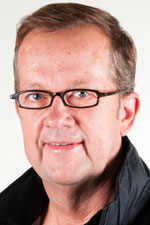 Read more here.
Fenlon's paper, 'Up Three: To Foul Or Not To Foul,' also included contributions from Tom Chiarella, Hampton and Esther Boswell Distinguished University Professor of Creative Writing at DePauw; and Underwood "Woody" Dudley, professor emeritus of mathematics. It has previously been cited twice by Sports Illustrated and factored into a 2010 NCAA basketball tournament game coached by Brad Stevens, head men's coach at Butler University and 1999 DePauw graduate, who discussed it during an April 2010 speech at his alma mater. It was also noted in a 2013 Hartford Courant story.
The winningest coach in DePauw men's basketball history, Bill Fenlon became the Tigers' head coach in 1992 and has coached 30 years at the collegiate level. Fenlon's DePauw teams have posted a 391-210 record.
Back