Faculty Soloists Join DePauw Choirs in Sunday Performance
September 22, 2015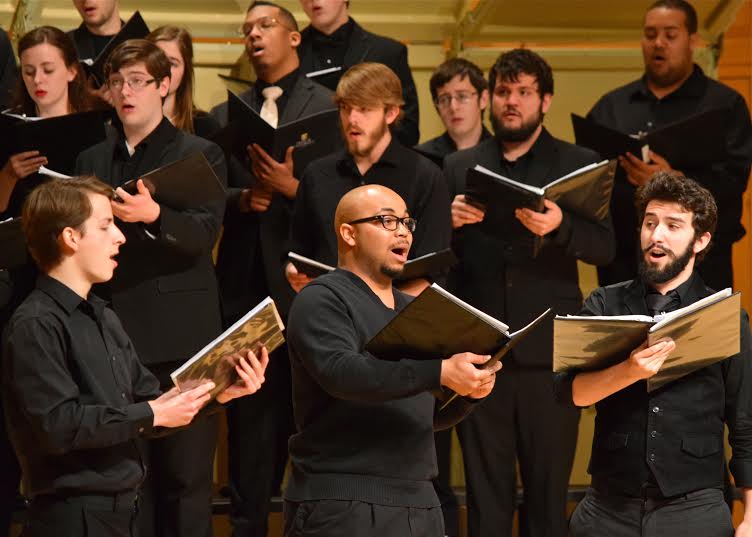 The DePauw University Chorus and DePauw Chamber Singers, under the direction of Kristina Boerger, presents their opening concert "Flora and Fauna," this Sunday, September 27, at 3 p.m. in Kresge Auditorium, located within DePauw's Green Center for the Performing Arts. Including music in a variety of regional and temporal styles, the program is inspired by poetry on images of flowers and animals.
Benjamin Britten's beloved cantata, "Rejoice in the Lamb," featuring the combined choirs and University organist Carla Edwards, is the cornerstone of the concert. "The text for this work is by the 18th-century poet Christopher Smart, who penned his verses while confined in an insane asylum," says Boerger. "His poem protests his mistreatment but also catalogs the animistic presence of the Divine in every perceptible aspect of life on earth -- down even to the brave, little mouse and to the root that sustains the flower."
The rest of the concert features life of all kinds as heard in Elizabethan madrigal, 20th-century part-song, African-American liturgical anthem, traditional Corsican Mass, South African polyphony or Beatles hit.
As a special attraction, faculty artists Caroline Smith, mezzo-soprano, and Amanda Hopson, piano, will perform Francis Poulenc's "Le Bestiaire," a whimsical setting of miniature poems about animals by Guillaume Apollinaire.
The following DePauw students are also featured as soloists in this concert: Kristin Daines '16, soprano; Elizabeth Brunnell '18, soprano; Addy Sterrett '16, soprano; Dana Hart '16, mezzo–soprano; Lance Orta '14, tenor; Logan Dell'Acqua '18, baritone; and David Mather '19, baritone.
General admission tickets to Sunday's choral concert are $3; tickets for seniors, children and all students are free. For more information and online purchases, visit www.depauw.edu/music/tickets.
A new automatic ticket kiosk was installed on the first floor of the Green Center this week and is now available for making walk-up ticket purchases at any time of day using a credit or debit card. The venue's box office will also be open beginning one hour prior to Sunday's performance.
Back