New Technology Center Will Provide DePauw Students with Even Stronger Tools for Success, Says Prof. Dave Berque
February 8, 2016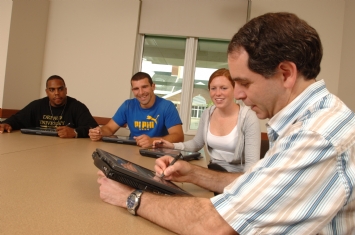 "I think it is very important that we're producing graduates who have good technology skills, but even more important is that we're producing those graduates in the context of good group work and teamwork skills, writing skills, good oral communication skills," Dave Berque tells Inside Indiana Business. The dean of academic life at DePauw University and Herrick E.H. Greenleaf Professor of Computer Science, Dr. Berque today discussed the $10 million gift by anonymous donor, which will create a signature Technology Center and Visualization Laboratory, an engaging and visible high-tech space where students will develop technology and computing skills.

"It's no longer the case that technologists just sort of sit in a corner and work by themselves," Berque says. "They're really integrated into all of the other activities that are going on. And one of the things we're going to be really strong at is producing students who are strong technologically but also have good problem-solving, critical reasoning, teamwork, writing, oral communication, quantitative reasoning skills."
Access the item here; the audio is also embedded below.
The University's original announcement, issued Friday, can be found here. It received national distribution over the weekend via the Associated Press.
Source: Inside Indiana Business
Back