IU Exhibit Features Photos of the Late David Repp '59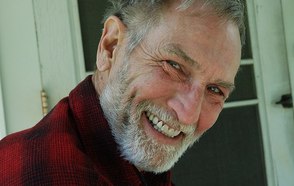 July 2, 2016
The photographs of the late C. David Repp, a 1959 graduate of DePauw University, are on display at Indiana University - Bloomington's Wells Library through October 7.
Repp's work provides "a portrait of Bloomington and the Midwest encapsulated within the frames of his black-and-white photography," notes an announcement. "A long-time Bloomington resident, Repp's photography on display ranges decades of work, with photographs covering subjects of nature, jazz, politics, auto-racing, Bobby Knight and canoeing. One of his most famous pictures has Coach Bobby Knight hurling a chair across the court at Assembly Hall."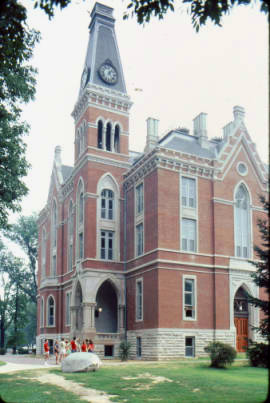 Photojournalist and editor J. Bruce Baumann says that Dave Repp "will be forever part of the photojournalism community that passed through Bloomington." (at left: a shot of DePauw's East College by David Repp)

An English literature major at DePauw, Repp earned a master's in audio-visual education from IU in 1966 after serving in the U.S. Army. He worked briefly as the chief photographer at Northern Illinois University, but spent most of his life as a freelance photographer and shot many special events at DePauw. He also served for many years as an adjunct instructor in the IU School of Journalism.


"Repp's work has been featured in publications such as TIME, Newsweek, Sports Illustrated, the Chronicle of Higher Education, the New York Times and the Washington Post.
His photos in the archive illustrate a Bloomington of yesteryear: a nude woman diving into the quarry in 1975, a political demonstration at Showalter Fountain with a man holding a sign that reads 'Joylessness,' a line of bikers riding toward the sun in preparation for Little 500 in 1969. Also included are a number of photos of Repp canoeing around areas like Lake Monroe and Patoka River." (at right: Repp was behind the camera when Gen. Colin Powell and DePauw President Robert G. Bottoms spoke at The Elms; November 2, 1994)
Repp died in April 2013 after a long battle with Alzheimer's.
Learn more about Repp's work and the exhibit here.
Back