Inauguration of President Mark McCoy to Highlight Old Gold Weekend, Oct. 27-29
August 11, 2016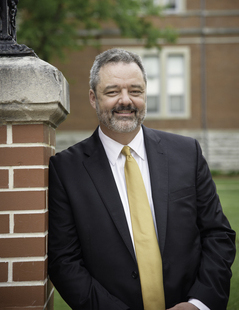 The formal installation of D. Mark McCoy as DePauw University's twentieth president and the dedication of Hoover Hall will be two of the highlights of Old Gold Weekend, October 27-29. All members of the DePauw community and friends of the college are invited to attend several of the events, including the inauguration ceremony for Dr. McCoy, which will take place at 10:30 a.m., Saturday, Oct. 29, in Kresge Auditorium, located within the Green Center for the Performing Arts.
The program will feature an address by Vernon E. Jordan Jr., the 1957 DePauw graduate who is a legendary figure in the civil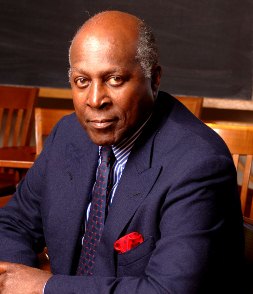 rights movement and has been called the "Rosa Parks of Wall Street" by Harvard University history professor Henry Louis Gates Jr. The remarks by Jordan, a longtime adviser to former president Bill Clinton, will be presented as part of DePauw's Timothy and Sharon Ubben Lecture Series.
DePauw's much-anticipated new dining facility, Hoover Hall, will be dedicated on Friday, Oct. 28, at 4:30 p.m. The 48,600 square foot building, which offers breathtaking views of historic East College, was made possible by a collection of gifts from DePauw alumni. R. David and Suzanne A. Hoover (both 1967 graduates of DePauw) provided the lead gift to support the construction effort and the building bears their name. Sarah R. and John H. Wallace (both 1976 graduates of DePauw) and James B. Stewart '73 made a joint commitment that supported the creation of a faculty and staff dining room within Hoover Hall.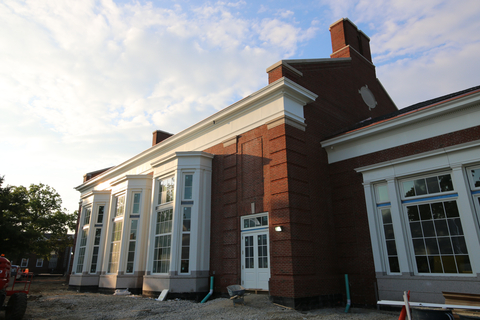 Hoover Hall replaces the "Hub," a food-court-style dining hall in the Memorial Student Union Building, and will serve as the primary dining space for first-year students and upper-class students living in University housing.
Some other Old Gold Weekend events, which are open to all, include:
Thursday, October 27 -
The unveiling of portraits to honor the contributions of Judson and Joyce Green ('74 & '75), David and Suzanne Hoover, and Timothy and Sharon Ubben (both '58); 5:30 p.m., Great Hall, Green Center for the Performing Arts, with reception following.
Friday, October 28 -
The presentation of the Old Gold Goblet to Kathryn Fortune Hubbard '74. the goblet is given for "eminence in life's work and service to alma mater." Kathy Hubbard (pictured at right), a member of DePauw's Board of Trustees, is the co-founder of Bridges of Understanding, a nonprofit, nonpolitical group dedicated to fostering better understanding between the United States and the Arab world; noon, Union Building Ballroom.
Two Alumni College sessions, led by members of the faculty, will provide guests with a window to the student academic experience at DePauw today; 1:30 & 2:30 p.m., locations to be determined.
Saturday, October 29 -
Community cookout following the inauguration ceremonies; Noon, Hamilton Park (adjacent to the DePauw athletic campus).
Women's soccer vs. Allegheny College; Noon, Reavis Stadium.
Men's and women's swimming vs. Albion College and Washington University (St. Louis); 1 p.m. Erdmann Natatorium, Lilly Center.
Football vs. Denison University; 2 p.m., Blackstock Stadium.
Men's soccer vs. Allegheny College; 2:30 p.m., Reavis Stadium
Mark McCoy officially assumed DePauw's presidency on July 1. He was appointed the 179-year-old University's twentieth president March 7 following a national search led by a committee of DePauw alumni, faculty, students and administrators.
Dr. McCoy came to DePauw in August 2011 as dean of the DePauw University School of Music and led an effort that raised the national profile of the the sixth-oldest School of Music in the nation and invigorated its offerings with the creation of the 21st Century Musician Initiative in 2013. He remains committed to engaging the Greencastle and Putnam County communities with the life of the University, with an important example of that outreach being last summer's opening of Music on the Square, located in the heart of downtown Greencastle.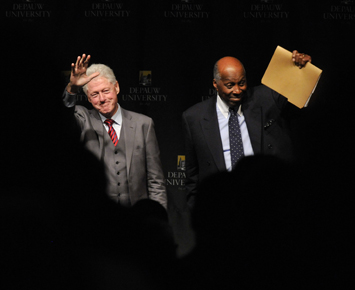 Vernon Jordan served as an adviser to President Bill Clinton (the two are seen at right in DePauw's Neal Fieldhouse on November 18, 2011) and was executive director of the United Negro College Fund, Inc.; director of the Voter Education Project of the Southern Regional Council; attorney-consultant, U.S. Office of Economic Opportunity; assistant to the executive director of the Southern Regional Council; and as Georgia Field Director of the National Association for the Advancement of Colored People. He's received numerous awards, including an honorary doctorate from DePauw. A political science major as an undergraduate, Jordan is an advisory member of his alma mater's Board of Trustees.
"This promises to be a weekend that will be remembered for a long time, as DePauw honors its traditions and celebrates the possibilities of the future," states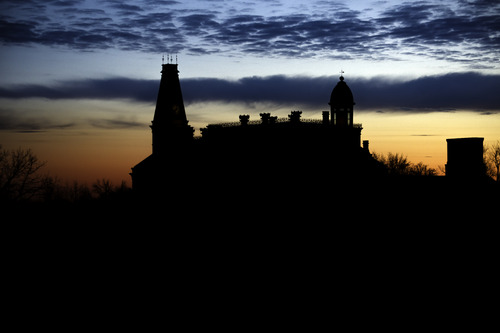 Marshall Reavis '84, chair of DePauw's Board of Trustees. "We have much to celebrate and look forward to at this college we love so much. I hope our many alumni, parents, and friends make the trip to Greencastle to be a part of a historic and fun-filled weekend."
DePauw's homecoming, Old Gold was first celebrated in 1907. Learn more about the 2016 event, and view a schedule of events here.
Back