United States Air Force Concert Band and Singing Sergeants Perform at DePauw Oct. 23
October 18, 2017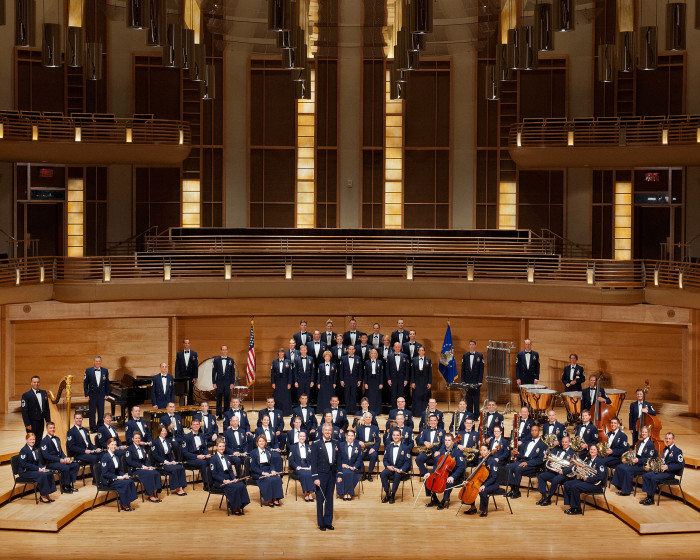 This year marks the 70th anniversary of the United States Air Force, as well as the 75th anniversary of The United States Air Force Band. Next week, the United States Air Force Concert Band and Singing Sergeants, led by Commander and Conductor, Colonel Larry H. Lang, are heading to America's heartland. The October tour is making stops in Missouri, Kansas, Illinois and Indiana -- including a Monday, October 23 performance at the DePauw University.
Admission to the 7:30 p.m. concert by the Air Force's premiere ensemble -- which will take place in the Green Center's Kresge Auditorium -- is free. Tickets, which are required, can be obtained online through the DePauw School of Music website here.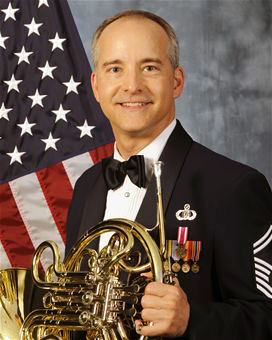 Senior Master Sgt. Philip Krzywicki (seen at left), a 1986 graduate of DePauw, is especially excited about the tour. "After 22 years of touring all across this country with the Band, it's great to finally come through this part of Indiana and be back on the stage in Kresge Auditorium," says Krzywicki.
He adds, "DePauw afforded me many fine musical opportunities. The small class size and wonderful faculty gave me the attention I needed and nurtured my abilities -- they got me on the right track. This is where I first realized my love for performing onstage."
In addition to their daily performance schedule, members of the Concert Band and Singing Sergeants will also be mentoring students along the tour through the Advancing Innovation through Music (AIM) educational outreach program. Air Force Band members typically work with individual sections, focusing on skills such as proper technique, musical phrasing and posture. Then the students come together with them,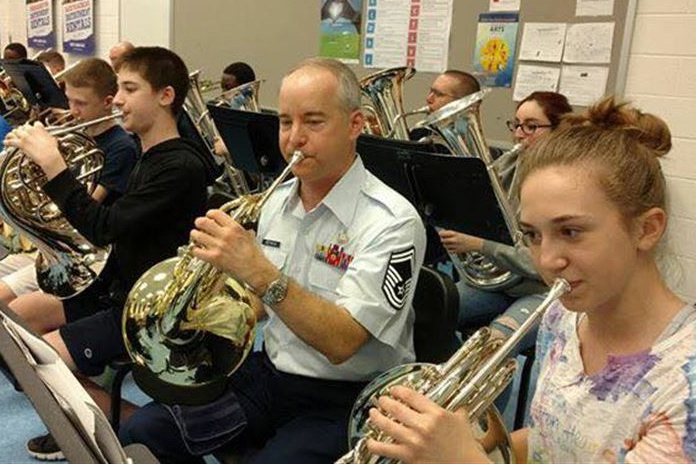 "side-by-side," to experience how the music they are working on is performed at a professional level. DePauw students selected for this opportunity will play Fred Jewell's march "E pluribus Unum" alongside the U.S. Air Force musicians on Monday's concert, after rehearsing with them during their sound check earlier that day.
"Our AIM program has been an outstanding success at home in Washington, D.C., allowing us to reach over 40,000 students in the National Capital Region over the last two years with music clinics, side-by-side performances and rehearsals with school groups and professional music demonstrations," Colonel Lang said. "As we tour across the nation performing our community outreach mission, AIM fills a vital role in helping us connect the Air Force to our communities."
The U.S. Air Force Concert Band and Singing Sergeants are two of the six performing ensembles within The United States Air Force Band,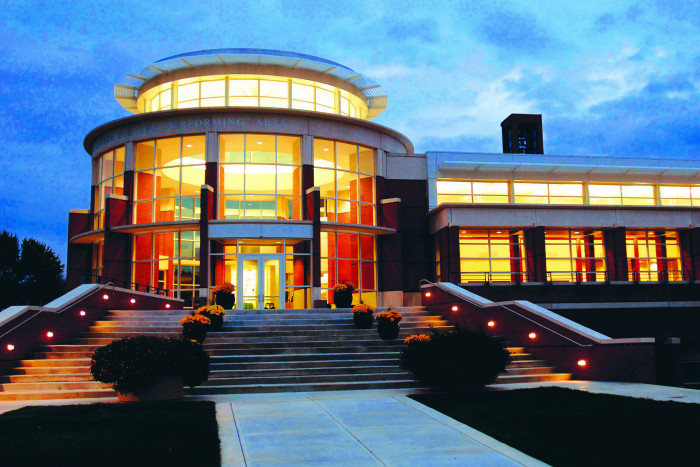 the premier musical organization of the U.S. Air Force. Stationed at Joint Base Anacostia-Bolling in Washington, D.C., the U.S. Air Force Band honors those who have served, inspires American citizens to heightened patriotism and service, and positively impacts the global community on behalf of the U.S. Air Force and the United States of America.
For more information or to obtain free tickets, visit music.depauw.edu. The Green Center box office, which will be closed over fall break (Oct. 14-22), will be open Monday, Oct. 23 from noon–4 p.m. and beginning 90 minutes prior to the performance.
Back