Prof. John Berry is Jurist for Indianapolis Abstract Art Exhibit
October 24, 2017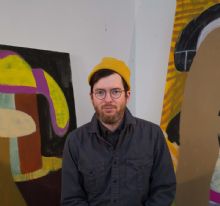 John G. Berry, assistant professor of art and art history at DePauw University, served as jurist for the Sali National Abstract Art Exhibit, which continues through Friday at the Garfield Parks Art Center in Indianapolis.
The Daily Journal of Johnson County notes that the exhibit features "a sampling of the nation's finest examples of contemporary, two-dimensional art from across the USA. Professional artists from across the United States were juried into this exhibit by Juror John Berry of DePauw University. Their paintings represent a wide variety of contemporary media and artistic techniques. All paintings are for sale, so art collectors are advised to come early for the best selection."
Read more at the newspaper's website.
Back