Civil Rights Leader Rev. Martin Luther King Jr. Speaks on the DePauw Campus
September 5, 1960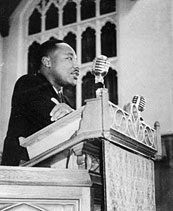 September 5, 1960, Greencastle, Ind. - "Black supremacy is as dangerous as white supremacy, and God is not interested merely in the freedom of black men and brown men and yellow men," Rev. Martin Luther King Jr. said at a speech on the DePauw University campus today. "God is interested in the freedom of the whole human race and the creation of a society where all men will live together as brothers, and all men will respect the dignity and the worth of all human personality."
Dr. King, a noted civil rights activist, led the 1955 Montgomery bus boycott and was co-founder and first president of the Southern Christian Leadership Conference. He was a featured speaker at "School for the Prophets", an annual event presented by the Indiana Methodist Church.
King's speech took place in Gobin Memorial Church, located on the DePauw campus. The University was founded by the Methodists in 1837.
The complete address is embedded below.
Back