Cable Needs to Change or "Join the Dodo in the Annals of Extinction": Prof. Jeff McCall '76
February 24, 2018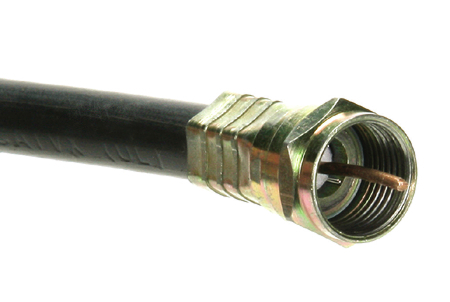 "A business model that forces consumers to pay for products they don't want is headed for disaster. It doesn't take a Harvard M.B.A. to figure that out," observes Jeffrey M. McCall, professor of communication at DePauw University. "Such a misguided business model is especially doomed when the industry is known for weak customer service and for offending consumers. That's exactly what is happening now, as cable providers get ready to join the dodo in the annals of extinction."
In a newspaper column, Dr. McCall writes, "Approximately 22 million Americans have now cut the cord on their cable or satellite television services, and the rate of cord-cutting is accelerating. About 5 million people dumped pay-TV services in just the last year. Worse yet for the industry, more than 34 million Americans are now considered cord-nevers, meaning they have never subscribed and don't intend to. Of course, new streaming services are a factor in this landscape change, but the wide majority of cord-cutters cite the high cost and greed of cable providers as primary reasons for dumping service."
Fees are rising, and cable and satellite packages force consumers to pay for channels they don't actually watch. "The average pay-TV subscriber watches fewer than 20 of the average 170 channels they must pay for to get the channels they really do want," McCall points out.
Moving to a la carte pricing plans, where you'd choose your channels and pay accordingly, could slow the loss of subscribers. "Basically, cable companies must ask themselves if they would rather keep a customer who pays for a limited number of channels or lose that customer entirely," asserts the professor. "Adaptation is the key for any industry when market forces change. The cable industry has not adapted, and that failure has prompted customers to flee. For too many years, the cable industry got fat by bundling dozens of channels together into packages and just assuming consumers would pay the exorbitant costs."
The op-ed concludes by noting that T-Mobile is planning a new TV service that will allow consumers to choose what they want. "It will be interesting to see how that new pay service actually develops and if other providers move in that direction," McCall says. "If the cable industry fails to change paths, you will someday, perhaps sooner than later, be more likely to see a dinosaur in your neighborhood than a cable television truck."
The essay is appearing in a number of newspapers, including Indiana's Kokomo Tribune.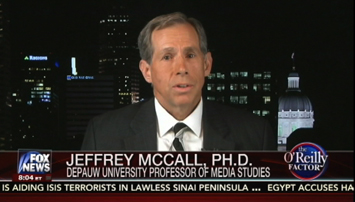 The author of Viewer Discretion Advised: Taking Control of Mass Media Influences, Jeff McCall is a 1976 graduate of DePauw, where he was a Rector Scholar and speech (communication) major and worked on student radio station WGRE, which he now serves as faculty adviser. McCall earned a master's degree from the University of Illinois and a Ph.D. from the University of Missouri. He joined the DePauw faculty in 1985.
The professor is regularly cited in media reports. Earlier this week, his column on the First Amendment was distributed by The Hill, the newspaper of Capitol Hill. Last week he was quoted in a Fox News story on The View. and discussed social media with the Terre Haute Tribune-Star.
Source: Kokomo (Ind.) Tribune
Back