Prof. Jeff McCall '76 to Address Heritage Preservation Society of Putnam County
March 8, 2018
Jeffrey M. McCall, professor of communication at DePauw and 1976 graduate of the University, will deliver the keynote address at the annual meeting of the Heritage Preservation Society of Putnam County. The event takes place next Thursday, March 15 at 6 p.m. at the Putnam County Museum in Greencastle and is free and open to the public.
A story in the Banner-Graphic notes that McCall is also a "U.S.S. Indianapolis expert." The newspaper reports that McCall's "presentation will provide the history of the heavy cruiser U.S.S. Indianapolis, and its World War II activities, including its many accomplishments and its tragic sinking near the end of the war. McCall will look at the Navy vessel's history through the perspective of his father, a sailor who served on the ship and was one of only 317 out of 1,196 crewmembers to survive the sinking. In the discussion, he will point out the many connections of the ship to other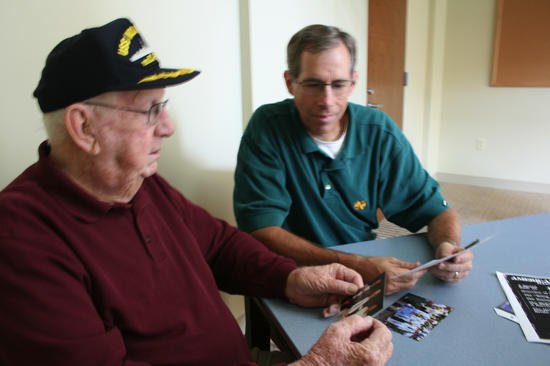 notable Hoosiers, including Admiral Raymond Spruance, who used the U.S.S. Indianapolis as his flagship as he commanded the Fifth Fleet." (at left: McCall with his father in 2010)
Access the article here.
Jeff McCall earned a master's degree from the University of Illinois and a Ph.D. from the University of Missouri. He joined the DePauw faculty in 1985 and has been quoted in more than 100 newspapers in stories exploring media matters. Earlier this week week he authored a newspaper column on violence depicted in media content.
Back