Ph.D. Candidate Maria Haag '13 Receives Mizzou 18 Award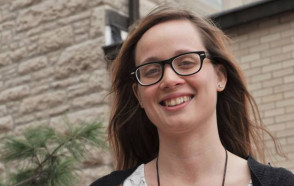 April 19, 2018
Maria T. Haag, a 2013 graduate of DePauw University and now a Ph.D. candidate in animal sciences at the University of Missouri, is one of 18 graduate students to be honored as part of the inaugural class of the Mizzou 18 award. "The select group was chosen based on a variety of accomplishments achieved during their time in school, including the research they've conducted, the leadership they've demonstrated, and the service to Mizzou they've provided," notes an announcement.
Haag was recognized for her work developing a simulation, CowGames, which she hopes will help students to learn more about breeding cows." Mizzou calls the game "a modern version of a cattle breeding simulation developed back in the '60s ... Breeding cattle does not happen overnight. Students wishing to learn more about the lengthy and complicated process can find it challenging, as even the procedure of breeding smaller animals such as mice or flies is difficult to complete in a single semester. Not to mention the money and resources such research costs."
Haag was a biology and political science double-major at DePauw. "If you look at my transcript I've taken way more computer science courses than I've taken animal science courses at this point. But it's fine."
Read more here.
Back