Indianapolis Monthly Offers 'The Monon Bell Classic: What You Need To Know'
November 7, 2018
"Saturday, November 10, 2018, will be the 125th time that Wabash and DePauw have faced off on the gridiron. They first played each other on November 22, 1890," notes Indianapolis Monthly in an article headlined "The Monon Bell Classic: What You Need To Know." Erik Dafforn writes, "To put that into historical perspective, Wyoming had recently become the 44th state. President Benjamin Harrison was reeling from his party's losses in the 1890 midterms only weeks before (due in part to the public's anxiety over tariffs), but the following month, he would designate Ellis Island to become the nation's first federal immigration facility."
Later, the publication endeavors to "contrast the Monon Bell game with other, so-called 'longstanding' rivalries:
Michigan and Ohio State will play their 115th game this year. Whatever.
Army and Navy will play their 119th. Ho-hum.
Purdue and IU will play their 121st. Wake us when it's over.

All told, only a handful of teams can boast their (ahem) quasquicentennial match. The current leader is the Lafayette-Lehigh matchup in Pennsylvania. This year they'll play their 154th game," the magazine points out.
As Dafforn notes in the article, "Throughout the Monon Bell game, the Bell's current owners ring it as a taunt and to celebrate key plays and scores. At 300 pounds, its sound carries."
There's much more at IM's website.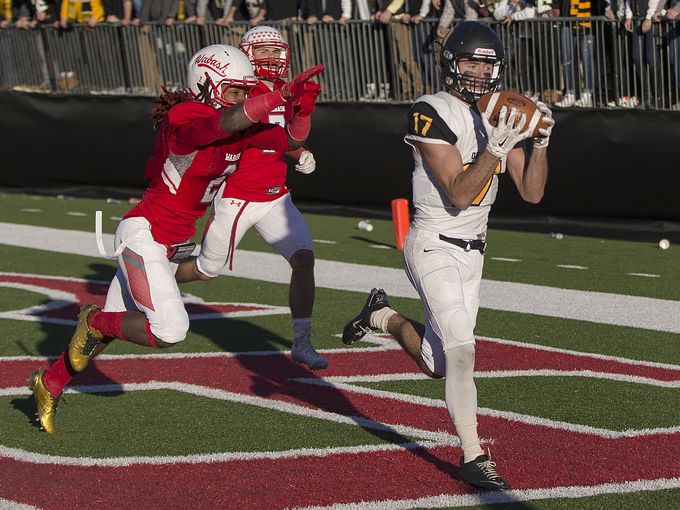 The 125th football game between DePauw and Wabash kicks off at 1:07 Saturday afternoon (Eastern time) in Crawfordsville. Some tickets are still available via this link; the contest will be televised on FOX Sports Midwest Plus and nationally on FOX College Sports Central, in addition to FOX Sports Indiana. Additionally, the battle for the prized Monon Bell will be streamed nationally to all users of the FOX Sports app, FOX Sports GO app, and at FOXSportsGO.com (stream here: https://foxsports.onelink.me/SY6x/c61a8688).
A DVD of the 125th Monon Bell Classic will be created and will include the entire 2018 game, season highlights for both teams, photo galleries, and many other extras. The disc can be pre-ordered here.
All 124 games to date are commemorated in video vignettes known as "Monon Memories." Created by DePauw's Ken Owen '82, the clips can be found here and on YouTube.
Source: Indianapolis Monthly
Back