School of Music Presents Annual Holiday Gala, Dec. 7 & 8
November 27, 2019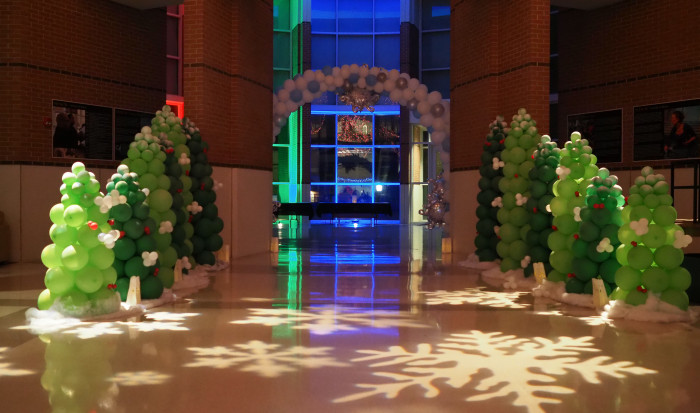 As the weather turns colder and families gather for the holidays, the DePauw University School of Music prepares for its annual Holiday Gala. On December 7 and 8, join the School of Music for a concert of holiday favorites, memorable moments, and hilarious hits. The 2019 Holiday Gala includes Hanukkah highlights, winter favorites like Frosty the Snowman, movie selections from The Polar Express, a visit from Santa Claus, and a surprise performance on Saturday night by some very special guests.
Saturday's concert, at 7 m. in Kresge Auditorium, features the full-length performance and will be followed by a reception in the Green Center Great Hall. Sunday's performance at 3 p.m. is approximately one hour long and aimed toward families – with a visit from Santa welcoming children with sweet treats. Both days, guests can look forward to a variety of decorations in the Great Hall, and new tradition that began with the 2018 Holiday Gala.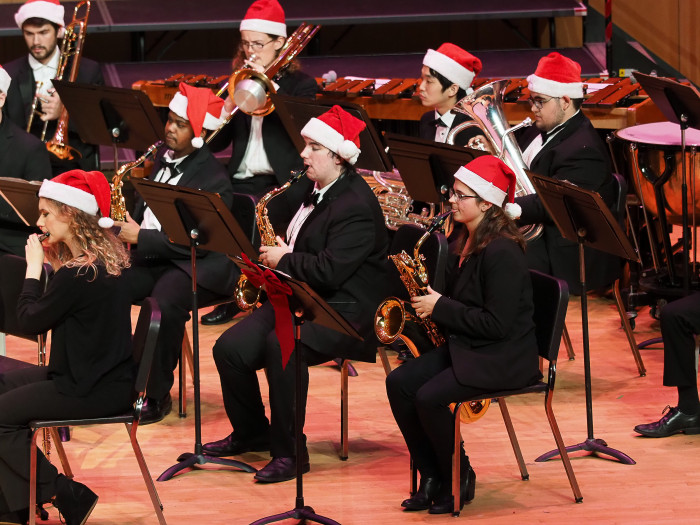 Local partners from across the Greencastle community will again join the School of Music for this year-end celebration featuring holiday music from various traditions. The concerts welcomes the return of the Putnam County Festival Choir, students from the Putnam County Youth Strings Program, and much more! The University bands, choirs, jazz ensemble and orchestra, as well as a host of soloists and chamber groups, will perform, with each concert concluding with a sing-a-long of seasonal classics.
In addition, several Greencastle restaurants will be offering dinner specials on Saturday. To ensure that diners arrive at the concert before Saturday's earlier-than-usual 7 p.m. curtain time, when making reservations be certain to mention that you are attending the Holiday Gala and bring your ticket to receive the special offers.
For reservations and additional details regarding holiday dining specials, contact these participating restaurants:
Almost Home: Prior to the Saturday night gala, Almost Home will have a prime rib special, and on Sunday, a brunch buffet will be served. Both days will offer a selection of freshly homemade holiday desserts.
Bon Appétit (Hoover Dining Hall): A special Holiday Gala menu will be offered on Saturday only, prior to the Dec. 7 performance with 50% off for children ages 7–12. Children under six eat free.
Don Julio's: 10% off your meal with a Holiday Gala ticket or program.
Fluttering Duck & 2 West (specials begin at 4 p.m.): Filet Oscar — 8 oz. Filet topped with asparagus, crab meat and Hollandaise sauce ($40); Skillet Seared Pork Chop with Apple Cider Cream Sauce ($25); Holiday Duet of Red and Green Curry with Chicken and Saffron Rice ($18).
Monical's Pizza: $3 off 16-inch thin-crust pizza with Holiday Gala coupon.
Myers' Market: 10% off your meal with your Holiday Gala ticket or program. Expires Saturday, December 14, 2019.
Wasser Brewing Company: New features include a bone in Myer's Market pork chop with champagne risotto, pesto crusted wild-caught salmon, mashed potatoes, and asparagus, as well as wings! Winter ales include Saudade, our Belgian Triple, and the return of County Fair APA.
General admission to the annual Holiday Gala is $10; tickets for seniors, youth and all students are free. To purchase advance tickets online visit music.depauw.edu. The venue's box office also is open from noon to 4 p.m. Monday through Friday and beginning 60 minutes prior to each performance.
For more information about DePauw School of Music events, visit music.depauw.edu or follow the School of Music on Facebook and Instagram @depauwmusic.
Back