Ullem Campus Farm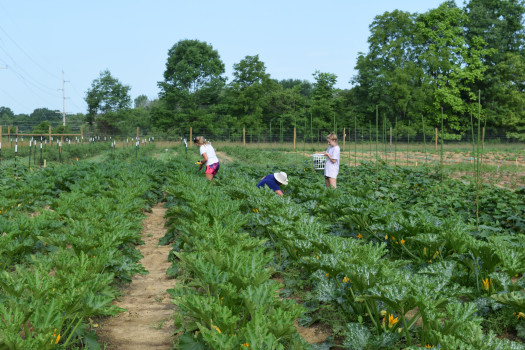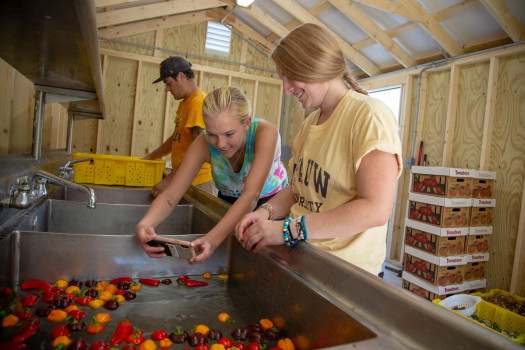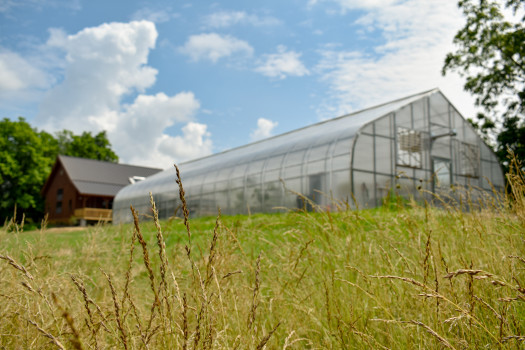 The DePauw Ullem Campus Farm offers exciting opportunities for students to engage in real-life applications of sustainable agriculture and environmentally friendly land use. Student interns and volunteers use organic practices to provide fresh and healthy produce for campus dining.
Sustainable Farming Practices
The Ullem Campus Farm strives to teach students about food and agriculture through sustainable, low-impact farming methods. Watch the farm documentary to see just how impactful the Campus Farm is on DePauw's campus, produced by Tilly Marlatt '19.
Chemical-free farming: The farm follows the USDA's organic farming recommendations by avoiding the use of pesticides, herbicides and fertilizers. Crop rotation, hand weeding, integrated pest management, companion planting, cover crops and organic compost limit weeds and pests without using harmful chemicals.
Reduced tilling: The process of land preparation is primarily non-mechanized and uses:

Polyethylene tarps to integrate cover crops, kill weed seeds, promote worm activity and create mulch.
A broadfork for soil aeration.
Hand tools for planting and weeding.
A two-wheel rototiller that disrupts less than six inches of soil

Water conservation: Drip-tape irrigation gives plants a direct source of water to their roots rather than their leaves, reducing evaporation and water usage.
Engagement Opportunities
Each season, the Ullem Campus Farm welcomes hundreds of students, volunteers and visitors who come as members of sports teams, service scholarships and classes. Members of the Sustainability Leadership Program's campus farm group work in the field and greenhouse, visit local producers and host community and school groups. Additionally, farm interns undertake personalized projects such as vermicomposting, aquaponics and beekeeping. Students, staff, alumni and community members are encouraged to reach out to sethbrawner@depauw.edu to learn more!
Open Volunteer hours:
MWF: 8 - 9:30 am and 2 - 4 pm
Thursdays: 8 - 9:30 am
Email catherinefisher@depauw.edu regarding volunteer work!
BY THE NUMBERS
90% of the farm's yield is sold to DePauw's dining services, Bon Appetit, to be turned into meals at Hoover Dining Hall. This gives students, faculty, staff, and community members access to the locally grown produce all season long."
 More than 17,000 pounds of produce have been harvested by students since 2018.
The 12-acre property features a three-acre crop field, greenhouse, wash and pack facility, hoop house, experimental growing plots, bee hives and the Ullem Center for Sustainability.