Commencement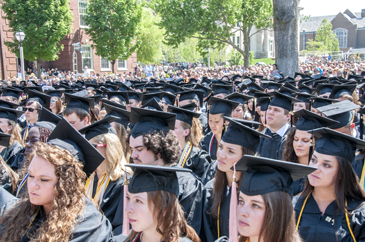 Commencement 2018 begins with the Baccalaureate, celebrated on Saturday afternoon, May 19, 2018. Our Baccalaureate Service is a celebration of the Spirit of DePauw University and an opportunity to give thanks for the time we have spent together over the past four years. As a community we gather to celebrate the accomplishments of the graduating class through music, readings and reflections. This service is an interfaith event that honors our diversity with a particular focus on the wisdom we gain from one another and from those who have gone before us. Featured at this event: two addresses, one from the University President and one from the faculty speaker, readings from the writing of DePauw Alumni, prayers from our religious traditions, and celebratory music from our School of Music. Because seating in the Kresge Auditorium is limited, each degree candidate will receive two tickets for guests. Seating in the auditorium is on a first-come first-served basis to ticketed guests. Additional guests may watch the ceremony on a live broadcast in the Moore Theatre and the Thompson Recital Hall in the Green Center.
The night before commencement, East College lawn is alight with lanterns and torches. Champagne and cake are served as a big band plays great American standards. DePauw Under the Stars has become a signature event for the weekend, bringing together the entire community--students, families, friends, faculty and staff--to celebrate.
DePauw University's 179th Commencement Ceremony takes place at 10:30 a.m. on Sunday morning, May 20, 2018, in the Holton Quadrangle.
Commencement Information