New Student Parents & Family
We welcome new student parents, guardians, and family to the DePauw community!
Dear Parents and Guardians of Class of 2027:
We have prepared Parent & Family webpages. We hope that you will find this information useful as you help your student prepare for life at DePauw.
Students can register for Summer Gold Enrollment Days at the Admissions Events website. 
We are eager to begin developing a relationship with your student and look forward to hearing directly from them over the summer. Please encourage them to reach out to these resources with questions.
---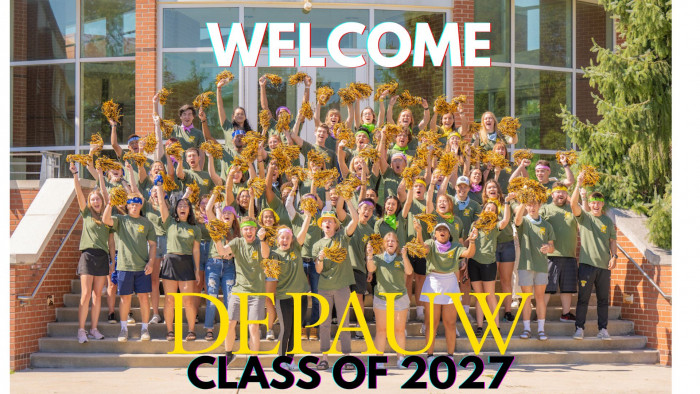 Parent & Family Guide
ACADEMIC LIFE
FIRST-YEAR SEMINAR
DePauw's first-year seminar is a small, discussion-based class with an emphasis on college-level writing. Small class sizes foster vibrant discussion, careful reading and analysis of texts and critical thinking about complex ideas.
All first-year students take a first-year seminar. Students in the Honor Scholar Program will be assigned to a seminar and will not need to request one.
COURSE AND SEMINAR REQUESTS
The curriculum in the College of Liberal Arts and Sciences and the new School of Business and Leadership is relatively flexible as students get started at DePauw, although students with specific interests in the sciences should start taking courses in these areas sooner rather than later.  First-year students generally take four full-credit courses in the first semester, which includes a first-year seminar. 
Descriptions of the seminars and courses for first-year students will be published on the First-Year Experience website at
depauw.edu/fye. During summer registration, May 17 – June 23, students will submit a list of 8 first-year seminars and 10-15 regular courses they are interested in taking. To ensure students begin exploring the breadth of their liberal arts education, they should include choices from a variety of fields. If students have questions about this process, they may contact the Office of the Registrar at 765-658-4141 or registarsoffice@depauw.edu. 
The course request and scheduling process is different for students in the School of Music because the curriculum is highly structured. Incoming music students are enrolled in lessons for their primary instrument, a first-semester course in theory and musicianship, and other music courses. Students considering a music education degree are also enrolled in an introductory course. Vocalists will be placed into diction. These students must submit a list of 10-15 courses to fill their schedule outside the School of Music. A School of Music representative will contact students during the summer with course information and guidelines for fall ensemble auditions. Students may direct questions to Caroline Jetton, associate dean of the School of Music, at cjetton@depauw.edu or 765-658-4503.
 ACADEMIC INTERESTS
Students must complete the form for academic interest on e-Services. Students vary considerably in their academic interests. Some know what they want to major in, while others want to explore. By sharing their academic interests and plans, we have better information as we create their fall term schedule.
ADVISING GUIDES
Please look here for advising guides. 
LANGUAGE REQUIREMENT AND PLACEMENT
Students in the College of Liberal Arts and Sciences, and the new School of Business and Leadership, must complete two semesters of a single language other than English, beginning at an appropriate level according to a placement exam program. Students may complete this requirement with a language they have studied previously by testing into the appropriate level, or they may begin a new language at the first semester level.  Students taking a language studied previously should begin their language study at the appropriate level, according to a placement exam and/or in consultation with the director of the language. Students may fulfill part of the requirement by taking one semester in an off-campus program with advance approval of the relevant language program director. Students desiring to begin a language they have not studied previously should request the beginning/100-level course. General questions can be asked of the Global Language Coordinator at cjgomolka@depauw.edu. 
 Students whose first language is not English may be certified as meeting the language requirement through the Office of the Registrar, and in consultation with the director of English for Academic Purposes. This certification takes place after a student arrives on campus.
One semester of language study in an off-campus program may count toward the completion of the language requirement with the approval of the relevant language coordinator.
The language requirement does not apply to the School of Music students pursuing four-year degrees.
STUDENT ACCESSIBILITY SERVICES AND ACADEMIC ACCOMMODATIONS 
DePauw is committed to providing equal access and reasonable accommodations to university programs for students with a variety of learning, physical (health and/or mobility), and emotional challenges. Student Accessibility Services coordinates policies and procedures, provides services and promotes accessibility for all qualified students. We strive to provide reasonable accommodations for students who have been diagnosed with long-term disabilities, chronic health conditions, temporary impairments and episodic conditions. The list of possible conditions that could require accommodations is non-exhaustive, and eligibility is determined on a case-by-case basis. If students believe they will require academic accommodations, they can learn more about the process at depauw.edu/academics/academic-resources/students-with-disabilities or by calling the Student Accessibility Services Office at 765-658-6267 or studentaccessibility@depauw.edu. It is most helpful to the student's college transition if all documentation is received prior to the start of the fall semester.
HOUSING AND RESIDENCE LIFE
Living with others as a member of a community is a vital aspect of your student's DePauw education that fosters the integration of learning experiences inside and outside of the classroom.
HOUSING OPTIONS
All first-year students live in residence halls with students from diverse backgrounds. Students become accustomed to a new community, exploring their personal interests, adapting to teaching methods at the collegiate level, and learning from each other in ways many have not experienced before. Through their first-year experience, students learn to navigate the transition to college and grow into independent adults.
DePauw offers multiple housing environments for first-year students and each community has unique characteristics. Each residence hall community provides programmatic and community development opportunities in addition to peer support and mentoring. Most rooms are double-occupancy rooms, but room sizes can range from single-occupancy to four-person rooms.
INTENTIONAL COMMUNITIES
HEALTHY LIVING COMMUNITY
Many students are interested in living in communities that intentionally support healthy life choices. Students who choose to live in these environments, called Healthy Living Communities, commit to a lifestyle that refrains from the use of alcohol, tobacco and other drugs within their residential environment. In choosing these communities, students opt to live in an environment that is free from the secondary effects of these substances and feel supported in their choice to refrain from using. Additionally, these communities offer specific resources, programs and events that support healthy life choices, provide quiet environments conducive to studying, create intentional opportunities for social and interpersonal connections and give students the responsibility to set the standards of the community and empower them to uphold those standards.
RAINBOW COMMUNITY
The Rainbow Community will be offered if there is sufficient student interest. All students are welcome to live in the Rainbow Community with an understanding that the space serves as an affirming home for all expressions of gender and sexuality. This intentional community serves as a space to enable lesbian, gay, bisexual, transgender, queer, questioning, intersex, and asexual (LGBTQIA+)  students and their advocates to connect and live in a respectful space. Additionally, restrooms in these communities will be gender-inclusive. All residents and their guests will be expected to be respectful and sensitive to all identities in the LGBTQIA+ community. In collaboration with the Center for Diversity and Inclusion, the Rainbow Community will offer specific resources, events and create intentional opportunities for social and interpersonal connections. Students will have the responsibility to set the expectations of the community.
SUBMITTING HOUSING PREFERENCES
DePauw's online housing system, Residence, gathers information about students' residential preferences such as floor type and intentional communities. Students are asked questions regarding community and are asked to rank their preferences online. Additionally, they will complete a roommate-matching profile in which they share information about themselves and what they look for in a roommate. The roommate-matching profile also enables students to find roommates with similar interests and living preferences. Students will receive instructions on how to use the Residence portal. Students will access Residence through their DePauw student e-mail and student portal in e-Services.
HOUSING ASSIGNMENTS
Housing assignments will be available over the summer. Housing assignments will be released to students through their DePauw email addresses. At that time, students will be able to access Residence, which will contain the name and email address of their roommate(s) and more information about their room and residence hall community. Encourage your student to keep their username and password safe because they will need them to log into the Residence portal.
QUESTIONS?
Students who have questions about housing options should contact the Housing & Residence Life Office at 765-658-4500 or housing@depauw.edu. Answers to frequently asked questions and other information can be found at https://www.depauw.edu/studentaffairs/campusliving/living-in-university-housing-faqs/. 
2023 - 2024 HOUSING CALENDAR (TENTATIVE DATES)
---
AUGUST 19, 2023 (SATURDAY)
First-year students opening day. Check-in from 8:00 AM EST - 11:00 AM EST
AUGUST 20, 2023 (SUNDAY)
Transfer students opening day. Check-in at Reese Hall from 10:00 AM EST - 12:00 PM EST
 Upperclass students opening day. Check-in at Reese Hall from 10:00 AM EST - 5:00 PM EST.
---
OCTOBER 2023
OCTOBER 14, 2023 (SATURDAY) - OCTOBER 22, 2023 (SUNDAY)
Fall Break: All University housing remains open. Students wishing to stay in University housing must register to stay with Housing and Residence Life by October 1, 2023.
---
NOVEMBER 2023
NOVEMBER 22, 2023 (WEDNESDAY) - NOVEMBER 26, 2023 (SUNDAY)
Thanksgiving Break: All University housing remains open. Students wishing to stay in University housing must register to stay with Housing and Residence Life by November 10, 2023. Students who do not register to stay will need to depart by 9:00 AM EST on Wednesday, November 22, 2023.*
---
DECEMBER 2023
DECEMBER 15, 2023 (FRIDAY) - JANUARY 2, 2023 (MONDAY)
Winter Break: All University housing closes at 6:00 PM EST on December 15, 2023. Students who wish to apply for an extension until 9:00 AM EST on December 16, 2023 must do so with Housing and Residence Life by December 10, 2023.*
---
JANUARY 2024
JANUARY 2, 2024 (TUESDAY)
Winter Term: University housing opens at 8:00 AM EST on January 2, 2024 for students approved to be on campus for Winter Term.* 
JANUARY 25, 2024 (THURSDAY)
Students approved to be on campus for Winter Term but not enrolled in an on-campus course for the Spring Semester must depart by 12:00 PM EST.
Spring Semester: University housing opens at 12:00 PM EST. 
---
MARCH 2024
MARCH 23, 2024 (SATURDAY) - MARCH 31, 2024 (SUNDAY)
Spring Break: All University housing remains open. Students wishing to stay in University housing must register to stay with Housing and Residence Life by March 8, 2024.* 
---
MAY 2024
MAY 16, 2024 (THURSDAY)
End of the Year Closing: Residence Halls and Rector Village close at 6:00 PM for students not participating in commencement*. Students who wish to apply for an extension until 9:00 AM EST on Friday, May 17, 2024  must do so with Housing and Residence Life by April 26, 2024.
MAY 23, 2024 (MONDAY)
End of the Year Closing: All University housing closes at 11:00 AM EST.
*Note that dining options are limited during break periods.  
REQUESTING HOUSING OR DIETARY ACCOMMODATIONS 
Living in a residence hall and dining with other community members are integral to the DePauw experience. Therefore, all requests for housing and dietary accommodations are evaluated carefully. Accommodations for both housing and dietary needs are determined on a case-by-case basis and only when appropriate medical documentation is provided. These may include medical conditions, impairments or other conditions that substantially limit a major life activity. Students who need housing accommodations are strongly encouraged to contact Student Accessibility Services prior to the housing application deadline. Housing and Residence Life will do its best to meet housing accommodation requests submitted after the application deadline but cannot guarantee that the accommodation or other residential requests such as room type, roommate requests, building location, etc. will be met. Approved ADA housing requests will be sent from Student Accessibility Services to Housing and Residence Life.
Student Accessibility Services may be contacted by phone at 765-658-6267 or by email at studentaccessibility@depauw.edu. Students may also initiate the accommodations process at www.depauw.edu/academics/academic-resources/students-with-disabilities. 
DINING OPTIONS
Students living in university-owned housing are required to be on a meal plan. First-year students may choose between two plans for the fall and spring terms and there is a separate plan for winter term:
RESIDENCE HALL MEAL PLAN (default meal plan)

This plan provides 18 swipes* a week, $200 in DPU Flex dollars,  and $50 in Community Plus dollars.

RESIDENCE HALL FLEX MEAL PLAN

This plan provides 14 swipes* a week, $400 in DPU Flex dollars, and $50 in Community Plus dollars.

WINTER TERM MEAL PLAN

Students living in the residence halls are required to participate in the Winter Term Meal Plan. The meal plan provides 18 swipes* per week and $40 in DPU Flex dollars. For students living in other housing types, the Winter Term Meal Plan is optional.
For additional information visit: https://www.depauw.edu/studentaffairs/campusliving/diningoptions/meal-plans/ 
*A meal or card "swipe" is normally an all-you-care-to-eat meal at Hoover Hall during operating hours or a meal swipe equivalent used at the Student Union Convenience Store, Blend, or Café Allegro.  Meals for the week are deposited onto cards every Friday morning at 3 am. 
UNIVERSITY EMAIL AND COMPUTER ACCOUNTS
Students will receive an email message with instructions about how to obtain their DePauw usernames and passwords. Students will have two separate computer accounts:
G Suite for Education (mail.depauw.edu): Their email account at DePauw
DePauw account: Used to log in to their portal in e-Services (my.depauw.edu), Moodle (moodle.depauw.edu), Residence, printers, campus labs and other DePauw online resources IT policies can be found at depauw.edu/it/policies.
If students do not receive the informational email message, please invite them to contact the DePauw IT HelpDesk at 765-658-4294 or email helpdesk@depauw.edu.
THIRD-PARTY ACCESS
Third-Party Access is a secure system that allows students to share billing statements and payments through Transact and selected academic records with third parties (parents, employers, etc.). To do this, students create third-party accounts and share the login information with the third party they choose. Academic records are covered by the Family Educational Rights and Privacy Act, which means that they may be released only with the student's authorization. In creating a Third-Party Access account and distributing the login information to a third party, the student is providing that authorization. 
Students can set up third-party access for billing statements and payments through Transact, which they can access in their portal in e-Services. Students can set up third-party access for academic information through Third-Party Access in their portal in e-Services.
STUDENT IMMUNIZATION POLICY 
DePauw requires that all students submit a completed immunization record through Med+Proctor (medproctor.com) by Aug. 1 of their incoming year. Students who fail to submit the immunization record will not be permitted to register for classes the following term.
Both required and recommended immunizations are specified at. Required immunizations include COVID-19 initial vaccine series, COVID-19 booster, varicella (2 doses), meningococcal (after the age of 16), hepatitis B, TDaP booster (within the last 10 years), and MMR (measles, mumps and rubella). International students will also require a tuberculosis screening in the United States. Students will be required to secure a flu vaccine between September 15, 2022, and January 15, 2023. For more information visit https://www.depauw.edu/campus-life/wellness/depauwhealth/. 
Proof of immunization can ONLY be provided by completing the process, including the specific Med+Proctor form which is downloaded after registering at www.medproctor.com. No other documentation will be accepted to meet this requirement;haring immunization information in a format other than the specific Med+Proctor form will delay the verification process.
For more information about the Immunization Policy, students should visit their portal in e-services. If students have any questions, please have them contact the DePauw Health Wellness Center at 765-658-4555. Additional information can be found under the Student tab at https://www.depauw.edu/campus-life/wellness/depauwhealth/. 
PROVIDING PROOF OF INSURANCE
Annually, students are required to provide proof of personal health insurance coverage valid in the United States at www.eiia.org/institution/depauw-university or be automatically enrolled in an insurance policy provided by DePauw. All students will be billed for the University insurance on their July 2023 bill; if students complete the insurance waiver/provide proof of personal insurance by the deadline (September 1), their student account will be credited no later than September 8. Students participating in intercollegiate athletics may have additional requirements. If students have any questions, please have them contact studentinsurance@depauw.edu.
More information can be found at https://www.depauw.edu/campus-life/wellness/depauwhealth/students/student-health-insurance/
---
PARTICIPATION IN VARSITY INTERCOLLEGIATE ATHLETICS
If a student plans to participate in varsity intercollegiate athletics, additional health information must be provided to the Sports Medicine staff prior to any official team practice; this information is sent to students by their head coach. For more information about NCAA and DePauw requirements for participation, visit depauwtigers.com, click on the Inside Athletics tab, then Sports Medicine.
STUDENT LAPTOPS AT DEPAUW 
Technology plays a significant role in many aspects of student life at DePauw. As such, DePauw expects all students to have a laptop computer to use in their coursework and co-curricular activities. 
Students find that having a personal laptop is invaluable for accessing online course materials, performing research, taking notes, completing coursework, and communicating with friends and family. In addition, because faculty members assume that each student owns a laptop, some instructors incorporate using a laptop into course assignments and sometimes require students to bring a laptop to class.
What kind of laptop should students have? 
Either an Apple or Windows laptop will work fine at DePauw. No matter which platform students choose, your student will want a computer that is less than one or two years old so that it can run the latest software. We strongly recommend purchasing an extended manufacturer's warranty and an extended accidental damage protection plan to ensure the reliability of the computer through your student's DePauw career. Accidental damage protection covers drops, spills, and other accidents that most standard warranties do not cover.
The Laptop Support webpage, depauw.edu/it/laptop, helps students choose the right laptop for them. 
Note: iPads, Chromebooks and other tablets or light-use mobile computing devices are not viable for use as a primary laptop. These devices are not powerful enough to meet all course-related needs. While students may decide to bring one of these as a secondary device, they should not plan to use it as their laptop.
Software
We recommend that all students have a copy of Microsoft Office and antivirus/antispyware software on their laptops. There is no need to buy these because DePauw provides both free of charge. See depauw.edu/it/laptop for details. 
To speak with a member of the Information Technology staff about laptops at DePauw, contact Drew Parrish at 765-658-4296 or drewparrish@depauw.edu. 
TUITION, FEES AND STUDENT BILLING
TUITION, FEES AND STUDENT BILLING
Students have several options for managing their student accounts, and the Payment Services Office is available to assist students and their families with questions about tuition, fees, housing, meal plans and other tuition-related charges.
---
THE BILLING PROCESS
The Payment Services Office at DePauw is responsible for issuing monthly account statements for tuition, fees, housing, meal plans, and other tuition-related charges. All invoices will be available online via Transact (see Transact information below). An email notification is sent to students (and their authorized third parties) each month if an invoice is available to view. Please note that parents and third parties will NOT receive billing and payment notifications unless granted access by their students.
DePauw students with an outstanding balance will receive a monthly bill. The invoice shows all charges and financial aid credits at the time the invoice was created. If students have been awarded financial aid and their statement does not reflect a credit you anticipated, please contact the Financial Aid Office at 765-658-4030 or financialaid@depauw.edu to determine if and when the credit will appear. Students must sign up for a payment plan or make payment in full by the beginning of each semester in order to avoid late payment penalties.
TRANSACT (Online Billing & Payments)
DePauw has contracted with Transact to provide student account e-commerce services.  This includes electronic issuance of student account statement, the ability to make payments by credit or debit card, electronic check (ACH withdrawal from a savings or checking account), linking a participating 529 account, and International Funds Transfer processed through Convera; and the ability to participate in an installment payment plan and to view recent account activity.
Please note that a 2.9 percent service charge is added to all credit and debit card payments and a $10 service charge to 529 payments.  There is not a service charge for electronic check payments.
Students are able to log in to Transact directly from their portal in e-Services by clicking on the Billing and Payments (Transact) link under the Financial tab.
Transact allows students to grant parents or other authorized users access to make payments, view payment history, and account balances. To grant access, students simply select "Send a payer invitation" from the "My Account" page of Transact and complete the required information (including appropriate access); an email will be sent automatically to the new payer with their username and password.  If payers need help resetting their password, they can use the "Forgot password" link on their login page.
Once a student invites a payer to their account, the payer can access Transact directly by going to www.depauw.edu/thirdpartypay.  Transact third party is only for student accounts receivable.
PAYMENT METHODS
Payment by Mail
Payments by check may be sent to: 
DePauw University | Attn: Payment Services
204 East Seminary Street, Room 201
P.O. Box 37
Greencastle, IN 46135
 Payment Methods on Transact Payments
Credit/Debit Card (2.9% processing charge)

Bank Account Transfer (no processing charge)

529 Account ($10 processing charge)

International Payment via Convera (formerly Western Union  Business Solutions)
Payment on Campus
Payments by cash or check may be made in person at Payment Services located on the second floor of the Emison Admission Building, Room 201.
Please note that late fees ranging from $25 to $100 per month and account holds may be assessed for a delinquent student account. Delinquent student account balances are balances $25 and over if not paid by the scheduled due date and not current on the payment plan.
Payment Services
Phone: 765-658-4015
Fax: 765-658-4376
Email: paymentservices@depauw.edu
https://www.depauw.edu/paymentservices
PAYMENT OPTIONS
You and your student may choose from two payment options:
• Option 1: Payment in full prior to the start of the semester
By Aug. 1 for the semester I
By Feb. 1 for the semester II
• Option 2: 4-Month Payment Plan
The 4-Month Payment Plan is set up online through Transact Payments. The payment plan allows students or payers to pay for semester charges over four months for the first semester and four months for the second semester.  To participate in this payment option, you must enroll each semester.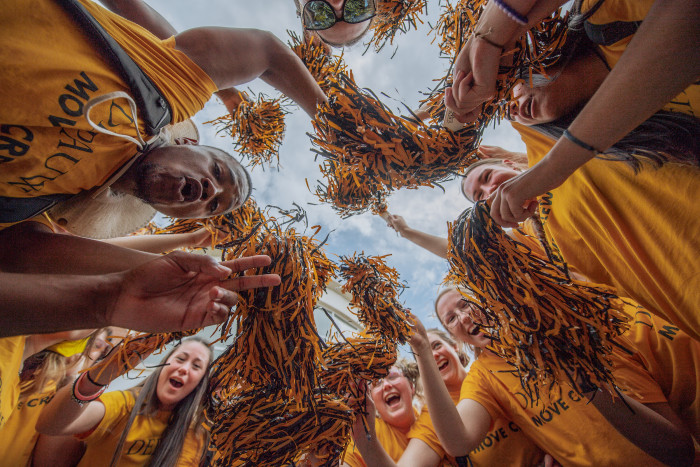 CONVERSATIONS TO HAVE WITH YOUR FIRST-YEAR STUDENT AS THEY TRANSITION TO DEPAUW
TALK ABOUT FERPA & ACADEMIC RECORDS
Having conversations with your student about their educational records is important. Throughout elementary and high school, parents or guardians are granted access to their child's records and are told to be involved in their child's education. When students enroll in college, however, they gain full control of their educational records. What this means to parents is that DePauw staff and faculty cannot discuss aspects of your student's education with you.
Many offices and departments on campus are willing to talk with you about policies and procedures, even if they cannot discuss your student's specific situation. DePauw does not mean to discourage your involvement with your student's education, but understanding the shift during college as your student takes on more personal responsibility for their academic life.
We encourage you to have conversations with your student regarding FERPA, your expectations, your student's responsibilities, and what information your student will release to you. Here is some information to get you started.
All third-party access is controlled by the student. Academic records are covered by the Family Educational Rights and Privacy Act (FERPA), which means that they may be released only with the student's authorization. In creating a Third-Party Access account and distributing the login information to a third party, the student is providing that authorization. The Registrar's Office or the Helpdesk cannot set up accounts for third parties or provide them access to existing accounts or change the items designated for access or give out usernames and passwords. All these account functions are controlled solely by the student. Records authorized for release to a third-party account may only be released through that account. University officials cannot release the records by other means (print, email, phone or face-to-face conversations) unless specifically authorized by the student.

Students can provide access by visiting the e-Services Third Party Access page.
Students can complete this form for the Office of the Registrar. 
SHARE THE IMPORTANCE OF ACADEMICS AND RESOURCES.
Consider reminding your students that DePauw will be an academically challenging environment. You can offer the encouragement that with time, determination, and hard work, they will make good progress. Additionally, they should know that few people who succeed in life have done it alone; rather many who excel do so because of the support system they have built for themselves. A very caring faculty and staff eagerly await to work with your student and be a part of their support system. Through their transition, we will talk with students about the tremendous resources we offer that contribute to student success. Invite your student to take advantage of these resources early and often in their time at DePauw.
More information will be provided throughout the transition for advising, scheduling, and AP/transfer credits. To connect with advisors, please contact: 
---
Office of the Registrar, AP/Transfer Credit:
P: (765) 658-4141
E: registrarsoffice@depauw.edu 
W: www.depauw.edu/academics/academic-resources/advising/registrar/
---
Colleen M. McCracken Renick, Assistant Director of Graduate and Professional School Advising, Health Professions Adviser, and Part-time Assistant Professor of Global Health
E: colleenmccracken@depauw.edu
W: www.depauw.edu/academics/centers/hubbard/gradschool/health/ 
---
Howard L. Books - Pre-Engineering, Professor of Physics and Astronomy and Pre-Engineering Advisor 
E: hlbrooks@depauw.edu
W: www.depauw.edu/academics/departments-programs/physics-astronomy/majors-minors/pre-engineering/
ENCOURAGE YOUR STUDENT TO DEVELOP RELATIONSHIPS WITH UPPERCLASS STUDENTS.
We will spend a great deal of time talking with your student about creating a support team for themselves, and we provide them with upper-class peers early on - their mentor and their first-year resident assistant. Both mentors and RAs can be invaluable resources for students. They can relate to the experiences that first-year students go through and are extremely caring and invested in the success of each of their students.
Every first-year seminar has an upperclass student leader, who we call a mentor. The primary role of the mentor is to be there to offer support and encouragement to students and to serve as a resource throughout the entire academic year. Mentors will spend a great deal of time with students during orientation, and they will convene their groups approximately every other week throughout the entire academic year. Additionally, they will meet one-on-one with their students about halfway through each semester and as needed.
Students who reside in university residence halls have first-year resident assistants (RAs) that can provide support and guidance. Resident Assistants live on the floor with their students and primarily focus on developing healthy, positive living communities.
ENCOURAGE YOUR STUDENT TO USE UNIVERSITY RESOURCES.
Because you are the primary person who has helped your student navigate conflict or challenges, I imagine they still may pick up the phone when they are going through a difficult time and call you. You in turn may have an initial inkling to pick up the phone and call the University to resolve the problem for your student.
Instead, I encourage you to pause for a moment and ask your student who they think might be able to support them as they work through each unique challenge. If they are not sure, remind them that as the director for first-year co-curricular programs, I am very happy to serve as their point of contact and connect them with someone who can best meet their needs. Taking this approach can be extremely beneficial to your student's ability to develop self-advocacy skills and resilience, two skills that will serve them very well throughout life.
TALK ABOUT THE IMPORTANCE OF GETTING INVOLVED.
Another way for students to connect to our community and find their sense of belonging is to get involved. This can mean getting to know other students who share similar passions, joining organizations or clubs based on shared interests or affinity, and continuing to develop their leadership skills. Alternatively, this is also a great opportunity to meet and interact with individuals who may be very different from your student with respect to life experiences, interests, and family background. At DePauw, we are committed to having a diverse student body (as well as diverse faculty and staff). We believe the diversity among our student body is an opportunity for your student to meet individuals and learn about ideas, experiences, and cultures that may not be familiar to them. We hope your student will take advantage of this opportunity at DePauw.
Learn more about student organizations here.
TALK ABOUT DIVERSITY, EQUITY, & INCLUSION ON CAMPUS. 
DePauw is a community of students, faculty, and staff from a wide range of cultural, ethnic, socioeconomic, and religious backgrounds. Creating a diverse and truly inclusive community calls on an entire campus - students, faculty, and staff at DePauw - to shape this journey, which is rooted in our values.
With a long and proud history of diversity, DePauw advocates a college environment that explores differences. We embrace all demographics but diversity here goes far beyond that. Diversity extends to inclusion and the intentional interactions we have with people with life experiences distinct from our own. We know that this can sometimes be challenging and uncomfortable which is part of the journey! Along with celebrating our differences, we also engage our students in understanding these differences in our perspectives, ideas, and beliefs through intercultural dialogue and other co-curricular opportunities to listen and learn from one another. Valuing, respecting, and engaging in difference makes DePauw and its students better citizens of the world.
TALK ABOUT SPIRITUAL & FAITH COMMUNITIES.
DePauw is deeply committed to supporting the spiritual journeys of persons from all religious traditions and backgrounds. If your student is interested in connecting to a local faith community while at DePauw, they can learn more here. More information on the Office of Spiritual Life and the services and programming they provide can be found here.
TALK ABOUT UNIVERSITY POLICIES & EXPECTATIONS
It is important to have conversations about various DePauw policies. The student handbook provides services, resources, and policies for our community.

These are the policies that most commonly come into play concerning classroom instruction, advising, and other faculty-student interactions. For the full list of academic policies, see the University Catalog the Student Handbook, and the Academic Policies section of the Academic Handbook.