How Career Services Can Help
---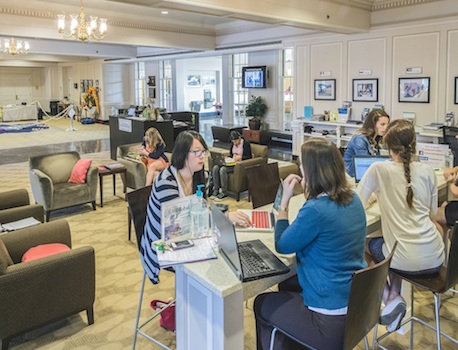 The Hubbard Center provides numerous programs and services to help you learn more about opportunities that will interest you. Whether you want to learn more about what career fields are a good fit, or you are preparing for a big interview, we can help you prepare to succeed.
We host a variety of programs throughout the year to help you learn about networking, interviewing, careers and internships. Browse the resources we have available. If you still have questions, come into the Hubbard Center or contact us by phone or email to schedule an appointment with an adviser.
---
Professional & Graduate School Advising
National Scholarships and Awards
Career Fairs, School Fairs & Workshops
@HubbardCenter on Twitter
---
"Travel is about finding those things you never knew you were looking for" 2 Days until the Global Fair!… https://t.co/HwKtdznQJt
yesterday
The Graduate & Professional School fair is now underway in the UB Ballroom. Speak with reps from more than 40 grad schools! Stop on in!
2 days ago
"Novaturient: a desire to alter your life, the feeling that pushes you to travel" 3 Days until the Global Fair!… https://t.co/hWImp3brFq
2 days ago
46 years ago
46 years ago
46 years ago
46 years ago
46 years ago
46 years ago
46 years ago
46 years ago
46 years ago