Checklist for Off-campus study application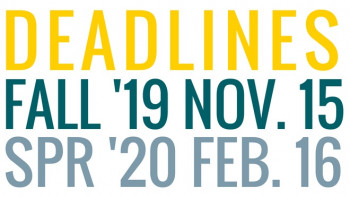 ❏ Meet with a Coquillette Peer Consultant (CPC) or attend an OCS Group Advising Session (Thursdays at 4) to get an overview of the application process.
❏ Declare your major ‐ In order to study for a semester off campus, you must declare a major. You may declare more than one as well as any minors you wish or change it at a later date, however it is required that you declare at least one major to complete the OCS application process.
❏ Log onto Horizons and begin searching through programs database ‐ You can find the database of DePauw approved programs under the "Search Programs" tab at the top of the page. ‐ You may find it helpful to use the search filters to tailor your options. You can search by country, language, semester the program is offered, academic discipline of the program and different features the program offers. ‐ The Hubbard Center can assist you with comparing options, but it is strongly recommended to make an appointment only after you have done your research.
❏ Applicants must have completed, or have a plan to complete, all distributional requirements (2 courses in Arts & Humanities, 2 courses in Social Sciences, and 2 courses in Natural Science and Mathematics) by the end of the sophomore year and prior to departure. Students must also have completed, or have a plan to complete, the following competency requirements: ❏ W by the end of sophomore year ❏ Q by the end of junior year ❏ S by the end of senior year
Note that competencies and distribution requirements cannot be completed while off-campus.
❏ Select the program you wish to apply to and click on "Apply" ‐ When deciding which program you would like to apply to, take the time to reflect about what things you would like to see offered in a program. How will this specific program benefit you academically, professionally and personally? ‐ Make sure to also evaluate some requirements of the program before you apply. Do you meet their GPA requirement?
Step 1 of Horizons Application:
❏ Read and Sign the Application Agreement ‐ Be sure to read the agreement completely before signing.
❏ Complete the Academic Pre‐Requisite Section of the Application ‐ Fill in your personal responses to the questions regarding prerequisites. You will need to find what the requirements are for your specific program and make sure that you meet them.
❏ Proposed Courses ‐ Based on the courses offered by your program, create a possible list of courses that you wish to take abroad. You are encouraged to talk with your academic advisor about which courses would benefit you. If these courses will contribute to any major/minor credit, please indicate this as well.
❏ Statement of Intent/Personal Statement ‐ This is one of the most important portions of your application. Your personal statement is your chance to explain why you would like to study off‐campus and why it will be beneficial to you. Why is the location you are applying to the best possible option for you? Do research and have your personal statement reflect the research you have done. ‐
You will need to include the following in your personal statement: ❏ 2 Specific Academic Goals ❏ 1 Specific Professional Goal ❏ Extra‐curricular opportunities ❏ Language Benefits? ❏ Housing situation? ❏ Information about location (Host country and city)
❏ Additional Documents ‐ This includes uploading your resume. You are encouraged to meet with someone in the Hubbard Center to advise you on your resume. ‐ Any additional documents you feel enhance your OCS application
❏ Budget ‐ Complete a preliminary budget. Much of this information can be found through DePauw e‐services and your program's materials. Budgeting for time abroad is an essential step in your preparation to study off campus ‐ Be sure to click "yes" under the section asking if you would like to apply for any scholarships
❏ Scholarships ‐ This section indicated which scholarships you are eligible for. In Step 3 of the Horizons application, you will be able to apply for as many scholarships that you are eligible for.
❏ Review Application ‐ Review all of the information you have submitted carefully and thoroughly.
Step 2 of Horizons Application:
❏ Recommendation Requests ‐ This is the stage in which you will need to ask faculty for recommendations; references from staff, coaches or employers are not accepted. Make sure to give them ample time to complete the recommendations. Three weeks is generally a standard time frame. Use the Horizons page to request their recommendations. You will need: ❏ 1 Recommendation from each major adviser ❏ 1 Recommendation from faculty member, may not be a major adviser ❏ 1 Language Recommendation, can be from major adviser, if applicable. Required for Spanish, French, German, Italian, Japanese, Chinese and Arabic programs.
Step 3 of Horizons Application:
❏ Scholarship Application ‐ You may apply for as many scholarships as you are eligible for. You must make sure that you have selected "Yes" in the budget section of Step 1 before you can begin this process. ‐ Read the scholarship prompt carefully. The Hubbard Center staff is available to help you with the application. Make sure to proofread and review the application carefully before submitting.
Step 4 of Horizons Application:
❏ Program Documents ‐ You are required to submit an electronic copy of a Liability Form signed by you and a parent or guardian, regardless of your age. Please follow the steps below to successfully submit this form. ‐ 1. Download the document provided on this page. ‐ 2. Print and fill in the necessary information and signatures. ‐ 3. Scan the completed form and upload into your Document Library ‐ Make sure to fill out any other documentation asked of you in this section.
Step 5 of Horizons Application:
❏ Submit Application! The Hubbard Center may approve or deny the application, or it may request a revision of the application based on questions posed by the committee, but only one revision will be allowed.
Pre-departure orientation
Once approved for off-campus study, you are required to attend all orientation sessions led by the Hubbard Center. If you miss a session, approval to study off-campus will be rescinded. Orientation sessions will address such things as course credit expectations, billing, how to register for classes while off-campus, and techniques that will be helpful in adapting well to the new environment and dealing with culture shock. They will also cover logistical topics, such as money, travel, and health and safety, as well as some site-specific information.
TO MAKE AN APPOINTMENT, CALL 765-658-4622, OR EMAIL HUBBARD@DEPAUW.EDU