Kappa Pi Art Honor Society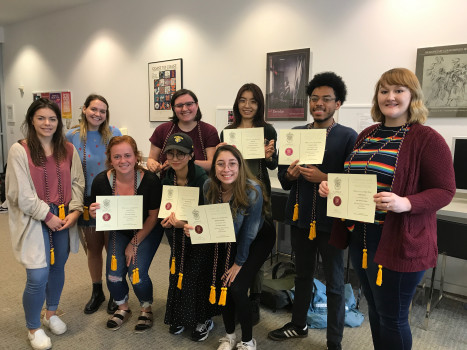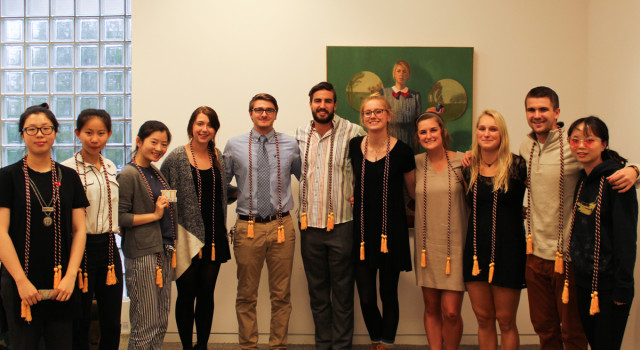 Kappa Pi is an international art fraternity based on academic achievement and artistic excellence.
Founded in 1911 at the University of Kentucky, Kappa Pi recognizes students who demonstrate outstanding academic achievement and also possess excellent studio art skills. As an organization, Kappa Pi supports the arts within the university and the community and seeks to promote a deeper appreciation of the arts among the public.
The Iota Upsilon chapter of Kappa Pi was established at DePauw University in 2017 to recognize and honor those who have excelled in the visual arts. As an honorary fraternity, Kappa Pi members must be studio art or art history majors who are juniors or seniors with a cumulative GPA of at least 3.0 and a GPA of 3.5 or higher in the major. In exchange for this high academic achievement, Kappa Pi members have access to competitive national scholarships, awards and exhibition opportunities. Members also become involved in activities on campus and in the wider community that promote a deeper appreciation of the arts, further the goals of achievement in the visual arts and the purposes of the Department of Art and Art History, and assist faculty members in developing an inclusive atmosphere conducive to providing the highest quality visual arts education.
| | |
| --- | --- |
| 2019 | Holly Acree, Austin Canales, Malak Daher, Nathalie Gallegos, Alex Jackson, Shuqi Li, Konrad Rula, Zewen Wang, Gracie White, Emma Wittkowski |
| 2018 | Caleigh Bubala, Kerrigan Clark, Brianna Douglas, Samantha Goodale, Tiffany Miller, Lihong Xiong |
| 2017 | Kendall Brewer, Julia Briggs, PanPan Deng, Perrin Duncan, Courtenay Graham, Mats Klein, Mi Lin, Rhiley McIntire, Emily Mensching, Adam Rathbun, Mackenzie Sikora, Zachary Taylor, Amelia Warren, Jingping Xu, Huidi Zhu |