Arthur E. Klauser Collections and Community Outreach Fellowship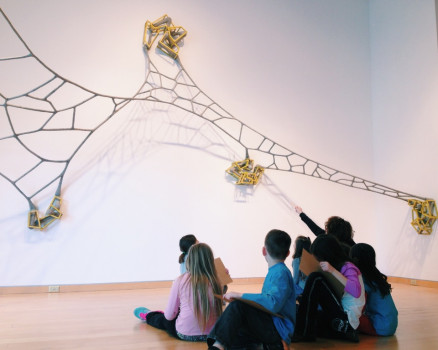 The Arthur E. Klauser Education and Community Outreach Fellowship is a paid 5th year program available to one outstanding DePauw graduate each year. The successful candidate will have the opportunity to work closely with the Assistant Curator to facilitate object-based learning at DePauw University while also developing and implementing program opportunities for the Greencastle K-12 community. Students with an interest in objects and teaching—especially those with related internship or work experience—are encouraged to apply.
Program objectives
This 5th year fellowship program is the first of its kind at DePauw to provide post-baccalaureate training in object-centered teaching and outreach at DePauw. As such, the fellow will receive extensive mentoring from professional staff, and will have the opportunity to further enrich their educational goals by working with campus and community partners. This is a part-time (approximately 20 hour per week) fellowship.
Possible opportunities include:
Strengthen research skills.
The fellow will have the opportunity to meet with faculty one-on-one to facilitate use of collections. For example, the fellow could meet with faculty in Religious Studies, learn more about their course needs, and then research appropriate religious icons in the university collection for their course. Opportunities to contribute to upcoming exhibition research and work with the Director/Curator on research related projects and catalogs may also be available.
Learn basic collections management and museum best practices. This includes physical inventory, object retrieval, re-housing, photography, and professional museum database software working closely with the Registrar of Exhibitions and Collections.
Gain informal museum education experience. The fellow, along with the Assistant Curator, will have the opportunity to work directly with DePauw University faculty, students, and the K-12 community to deliver tours, visual thinking strategies (VTS) workshops, and brief lectures/guided discussions.
Student Benefits
The program will provide students with a personalized fellowship working directly with the gallery/collection program at DePauw. This includes:
Hands-on experience in arts administration, collections management, exhibition install and preparation, and museum education with emphasis on program management.
Career and graduate school mentoring from gallery staff.
One DePauw course each semester at no charge, provided the course furthers the student's career and/or graduate school goals.
Other professional development opportunities such as local and regional workshops, online webinars, etc.
Application Process
Your application should include a statement of 500-750 words covering the following:

Your goals for the fellowship.
1. What qualities you think you can bring to the program.
2. Your professional goals for the year following the fellowship. This might include admission to an MA/PhD program, work in a museum or gallery, teaching, or other career.
In addition, your application must include:
Current resume.

One letter of support from a DePauw faculty member.
Interviews will take place shortly after applications are due.
E-mail application in a single PDF file to:
E: mscott@depauw.edu
Submissions due April 22, 2020
Recipients will be notified by May 1, 2020