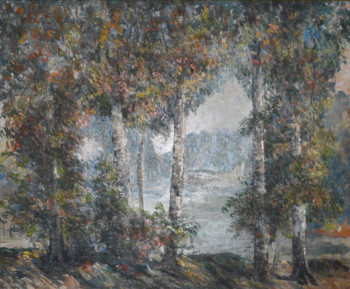 John Wesley Hardrick
Summer Landscape, early 19th to mid 20th century
Oil on canvas
Gift of Jack Finley
2004.3.8

In Summer Landscape, John Wesley Hardrick captures the beauty and haze of a summer afternoon. Combining bright hues with more muted, earthy tones, a small body of water is glimpsed from between the trees of a wooded bank. Here, Hardrick employs an impasto technique to create the densely layered brush, recalling his background in impressionism. Beyond the shade of the trees, however, the calm waterway is formed from smooth and even strokes. Swathed in pastel blues and greens, Hardrick evokes the cooling nature of water amidst a stifling summer heat.

Born and raised in Norwood, a once-rural and predominantly Black neighborhood of Indianapolis, Hardrick began professionally exhibiting paintings at age 13. He studied under two members of the famed impressionist Hoosier Group—first with Otto Stark and later, after enrolling in the John Herron Art Institute in 1910, with William Forsyth. Though he lived in Indianapolis for the entirety of his life, his work was nationally recognized at the time of his death from Parkinson's Disease in 1968 and has been exhibited in a number of Indiana institutions as well as in Chicago and San Diego, California.

In the fall of 2022, Summer Landscape was featured in the exhibition Past is Present: Black Artists Respond to the Complicated Histories of Slavery at the Herron School of Art and Design's Basile Gallery.
Alyssa Flory, Spring 2023
Klauser Intern