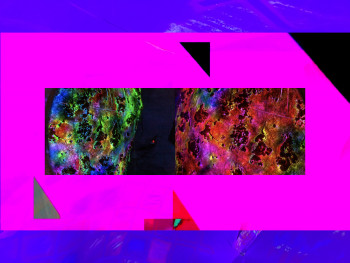 COSMOCULUS
August 23 - October 10, 2021
Peeler Art Center, Visual Art Gallery
Claire Ashley's work investigates inflatables as painting, sculpture, installation and performance costume. These works have been exhibited nationally and internationally in galleries, museums, and site-specific installations, performances and collaborations.

The following is from the artist Claire Ashley:
For this show, I play with the idea of portals, oculi, and layers of visual experience that reference landscape, bodyscape and alien worlds. I want to promote the experience of looking both externally at the surface and form of the monumental painted inflatable sculptures and internally into their bellies or brains, through multiple eye openings or oculi of sorts, to other layers of experience. These portals reveal multiple translations - lit sculptural objects, digital video, cavernous sound, or fast paced virtual environments using the oculus quest. Look, listen, gently touch, relax, and give the oculus a go in this immersive environment. Audioscape created by sound artist and collaborator Joshua Patterson."

Please see the Gallery Attendant for directions on using the virtual reality headset.