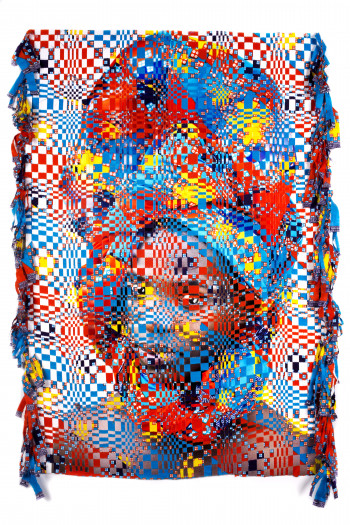 Kyle Meyer,
Unidentified 61, 2018
image used through permission via
Mennello Museum of American Art


Shifting Gaze: A Reconstruction of The Black & Hispanic Body in
Contemporary Art from the Collection of Dr. Robert B. Feldman
March 1 - June 20, 2021
Peeler Art Center, Lower Gallery

Shifting Gaze: A Reconstruction of The Black & Hispanic Body in Contemporary Art is a collection of work by artists who are exploring concepts about identity, beauty, belonging, and religion, as well as work with deep gravitas around poignant issues of race, sexuality, violence, displacement, vulnerability, erasure, and visibility.
The title is evocative and an emblematic reference to art history and the critical social agency of our current times. Through various media, such as painting, sculpture, drawing, and collage, the Black and Hispanic body (physical and metaphoric) is implied or materializes with subtlety in some instances, beautifully unfolds in others, and in a few, is direct, dramatic, and heartbreaking. The symbolic framework of the Shifting Gaze and Reconstruction helps generate a larger dialogue between the works on view and the specificities of a diverse African & Hispanic Diaspora in our current physical, social, and political landscape, as revealed through each artist's personal experience and distinctive aesthetics.
The power of this collection, conceptually, formally, across contexts, sensibilities, and interests is the result of the extraordinary vision and passionate quest of the Winter Park collector Dr. Feldman who shares with us an unparalleled visual intellect fueled by his knowledge, curiosity, humanity, and keen eye.
To view the exhibition virtually, go here.
Link to artist talk given at Virginia Museum of Contemporary Art in October 2020.

Shifting Gaze: A Reconstruction of The Black & Hispanic Body in
Contemporary Art from the Collection of Dr. Robert B. Feldman Catalog