Fulbright Recipient Paul Johnson '04 Profiled in Hometown Newspaper
August 10, 2012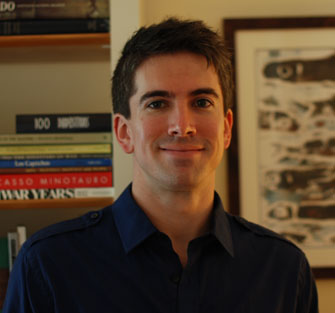 "I've always had an interest in academics and learning as much as possible," Paul Michael Johnson, a 2004 graduate of DePauw University, tells the Frankfort Times. An article in the Indiana newspaper previews Johnson's experience in Spain during the new academic year as a Fulbright Research Fellow. "I wouldn't be here without the mentorship of my family and educators," he says.
Johnson's Fulbright project is titled "Ineffable Emotions: The Politics and Aesthetics of Affect in Early Modern Spain."
"Johnson who is working towards his doctorate in Spanish literature at the University of California, Irvine was awarded the scholarship to complete his study on the role of emotion in the social spaces of 16th and 17th century Spain," writes Shelley Smith. "He was 14 years old when he took his first Spanish class in junior high, and continued through all four years of high school ... Johnson studied romance languages and European
studies at DePauw University, where he spent a semester studying abroad in Barcelona, Spain. After graduation in 2004, he went on to complete his master's degree in Spanish from Middlebury College in 2006. All his work has led up to this moment of completing his project in Spain."
The article adds, "Johnson will spend six months in Spain studying 16th and 17th century dramatic manuscripts and historical documents to understand how emotion was used.
"I hope to prove that emotions were a public good that was exchanged and circulated," Johnson states. "I am driven to teach and pass along that knowledge to encourage my own students to think critically and improve cross-cultural understanding."
The complete feature is available to subscribers at the Times' website.

Also available is this previous story.
Paul Johnson is one of five members of the DePauw community to receive a Fulbright award this year, joining four May 2012 graduates. Sam Holley-Kline will conduct anthropological field research in Mexico in a project, "Ancient Pyramids, Modern Populations: Totonac Perspectives on El Tajín." English Teaching Assistant grants will send Kara L. Bischak to India, Stewart E. Jones to Malaysia and Case M. Naziger to South Korea.
Back