Paul Johnson '04 Will Conduct Research in Spain with Fulbright Award
May 10, 2012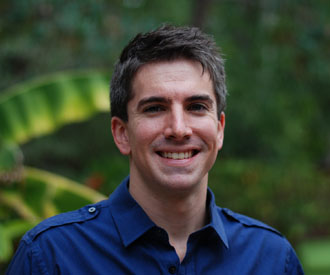 Paul Michael Johnson, a 2004 graduate of DePauw University, has been been awarded a Fulbright Research Fellowship that will send him to Spain for the 2012-13 academic year. His project is titled "Ineffable Emotions: The Politics and Aesthetics of Affect in Early Modern Spain."
Johnson is the fifth member of the DePauw community to receive a Fulbright award this spring, joining four current seniors. Sam Holley-Kline will conduct anthropological field research in Mexico in a project, "Ancient Pyramids, Modern Populations: Totonac Perspectives on El Tajín." English Teaching Assistant grants will send Kara L. Bischak to India, Stewart E. Jones to Malaysia and Case M. Naziger to South Korea.
"Modern Western societies typically regard emotion as a private aspect of the self," Johnson wrote in his Fulbright application. "Yet for centuries emotion was understood as a social phenomenon which depended on a public exchange with others. Although universally felt, emotion is invariably mediated by the cultural

politics, mores, and values of particular societies. My research centers on the multifaceted role of emotion in the social spaces of 16th and 17th century Spain. By examining dramatic manuscripts and historical documents, I hope to show how the expression of affect was molded by various public discourses and broadly valued both as a political tool and cultural commodity."
Johnson was a Romance Languages major and European Studies minor at DePauw, and spent a semester abroad in Barcelona, Spain. After graduation, he spent a year in Madrid and then received his master's degree in Spanish from Middlebury College in 2006. He is working toward his Ph.D. in Spanish Literature at the University of California, Irvine, where he is currently conducting research and writing his dissertation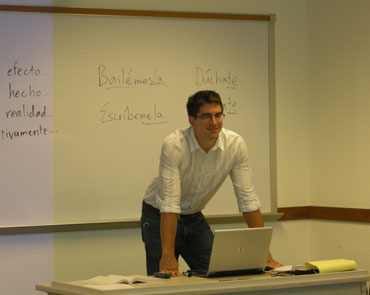 on sixteenth- and seventeenth-century Spanish literature and culture and the author Miguel de Cervantes. He's also participated in the Modern Language department's Servicio en las Américas program, serving as its Spanish language instructor for the past five summers (2007-2011) and has accompanied faculty members, student leaders, and first-year DePauw students on international service trips to Ecuador, Costa Rica, and Peru.
"Although I grew up in a small farming community in rural Indiana, I was fortunate enough to have a high school Spanish teacher who instilled in me a profound interest in foreign languages and cultures," Johnson wrote. "Eager to feed this growing passion, I volunteered with a local literacy program to teach English to members of the Spanish-speaking immigrant population. I had found my calling: building solidarity and fostering cross-cultural understanding through direct service and community engagement."
His studies at DePauw and volunteer work -- including leading an after-school Spanish program, tutoring elementary and high school students who were learning English as a second language, and service at a homeless shelter -- "made me even more attuned to the racial and economic inequalities suffered by immigrant populations and other marginalized groups." He added, "I am still driven by many of the same goals which inspired me back in that tiny Indiana high school Spanish classroom. Yet my perspective has been infinitely expanded by the opportunities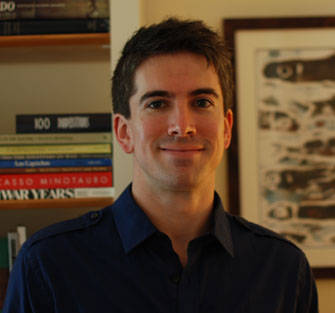 -- local and global -- that I have been given to engage with people of diverse backgrounds through the shared medium of Spanish."
According to Johnson, "My current research on the cultural, political, and aesthetic representations of emotion in early modern Spain endows the often impersonal and solitary task of research with a distinctly human element. It also reflects a deep emotional investment in the social issues that have shaped my intellectual and professional commitments. A Fulbright Fellowship will empower me to channel these commitments even more into my research, teaching, and community engagement and to reconcile my thirst for knowledge with an equally strong desire to share it with others."
The Fulbright U.S. Student Program competition is the largest American international exchange program offering opportunities for students and young professionals to undertake international graduate study, advanced research, university teaching, and teaching in elementary and secondary schools worldwide. It currently awards approximately 1,600 grants annually in all fields of study, and operates in approximately 130 countries worldwide.
Fulbright full grants generally provide funding for round-trip travel, maintenance for one academic year, health and accident insurance and full or partial tuition.
Since its inception in 1946, the Fulbright Program has provided approximately 310,000 participants, chosen for their leadership potential, with the opportunity to observe each others' political, economic and cultural institutions, exchange ideas, and embark on joint ventures of importance to the general welfare of the world's inhabitants. Learn more by clicking here.
DePauw University is listed among the "Top Pro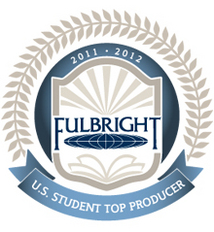 ducers of Fulbright Awards for U.S. Students, 2011-12" in the Chronicle of Higher Education. DePauw is the only bachelor's institution in the state of Indiana to appear on this year's list and was also cited as one of the USA's top producers of Fulbright Fellows in the publication's 2009, 2008, 2007 and 2006 listings.
See the names of DePauw's Fulbright recipients here or visit the University's Fulbright page.
DePauw students and alumni who are interested in applying for Fulbright Awards may contact David N. Gellman, associate professor of history, or Marion "Marnie" McInnes, professor of English and women's studies and director of nationally competitive scholarships.
Back