"The Face of Fox News," Bret Baier '92, Profiled in Newspaper
January 23, 2012
"This still boyish-looking kid from Dunwoody isn't good at handling the unexpected," notes the Atlanta Journal-Constitution of Fox News Channel anchor Bret Baier. "He's hands-down the best," writes Jill Vejnoska. Baier, a 1992 graduate of DePauw University, is profiled in a feature headlined "Bret Baier is 'the face of Fox News'."
The newspaper reports, "At DePauw University in Indiana, he double majored in English and political science and was the first anchor of its weekly news program. 'It went out on local cable access, which meant it was seen by two people,' he said with a laugh. 'But ... it led me to my first job.' That was at WJWJ-TV in Beaufort, S.C., followed by stints in Rockford, Ill., and Raleigh, N.C., to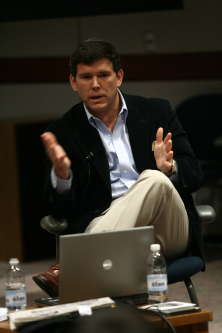 'cut my teeth on political reporting' in the state capital." (at left: Baier speaks at DePauw's Pulliam Center for Contemporary Media; March 17, 2008)
Baier joined Fox in 1998 and three years ago became anchor of Special Report, a show previously helmed by Brit Hume. The program, writes Vejnoska, is "must-see TV for political junkies. The 6 p.m. show drew just under 2 million viewers on weeknights in 2011 -- good enough for the No. 3 ranking among all cable news programs. "
"Bret Baier, along with Bill O'Reilly, now is the face of Fox News," Jeffrey M. McCall, professor of communication at DePauw and 1976 graduate of the University, tells the Journal-Constitution. "And given that O'Reilly does commentary, that puts Bret in the position of being the face of Fox News journalism."
The article also details how the health challenges faced by Paul Baier, the eldest son of Bret and his wife Amy, have impacted the couple's lives, and helped others. "The couple serve on the foundation board at Children's National M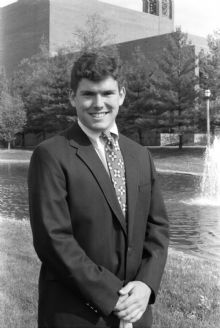 edical Center, where Paul has had his surgeries, and Amy is co-chairing the spring fundraising gala. Bret donates all proceeds from his paid speeches to Children's, where a $1 million gift from the couple and Amy's parents has already established the Paul Francis Baier Comprehensive Media Room." (at right: Baier as an undergraduate at DePauw)
You'll find the complete article at the Journal-Constitution's website.
Bret Baier will return to campus to speak as part of the 175th Anniversary Distinguished Alumni Lecture Series.

Read more about him in this recent story.
Source: Atlanta Journal-Constitution
Back