Prof. Emeritus Fred Bergmann, Who Taught English at DePauw for 44 Years, Dies at Age 97
January 15, 2014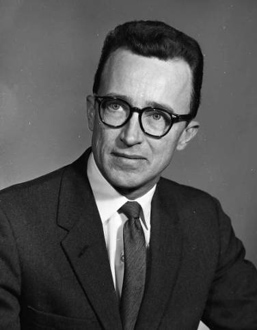 Fredrick L. Bergmann, professor emeritus of English at DePauw and the University's oldest retired professor, died December 28, 2013, in Peoria, Arizona. Dr. Bergmann, who also helped create DePauw's study abroad programs in the late 1950s, was 97 years old.
Born on September 27, 1916, Fred Bergmann earned his A.B. from Washburn College (1937); the M.A. from Washington State University (1939); and a Ph.D. from George Washington in 1953. He joined the DePauw faculty in 1940, shortly before World War II began, and intended to stay at the University for only two years. He wound up teaching at DePauw for 44 years, and chaired the English department for 21 of those years.
During World War II, Dr. Bergmann held down three jobs at DePauw. Besides teaching English, he headed the University's News Bureau and taught additional courses for the U.S. Navy in communications.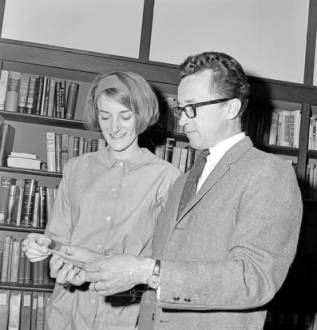 In 1977, Bergmann was appointed special assistant to President Richard F. Rosser, but continued to teach. While on the DePauw faculty, the professor published 12 books, including Essays: Method, Content, Conscience; Paragraph Rhetoric: A Program in Composition; Sentence Rhetoric; Writing Craftsmanship, co-authored with the legendary DePauw professor Raymond W. Pence; and The Plays of David Garrick. Bergmann held the James Whitcomb Riley Professorship of English Literature. (at left: Fred Bergmann circa 1967)
When he retired from the faculty full-time in 1982, Bergmann estimated he had taught more than 7,000 students, among them dozens of editors of the student newspaper, The DePauw, which he oversaw as faculty adviser for many years. His proteges included John Jakes '53, who has been called America's "godfather of the historical novel" by the Los Angeles Times and has sold more than 50 million books, including 18 consecutive New York Times bestsellers. Another one of his students,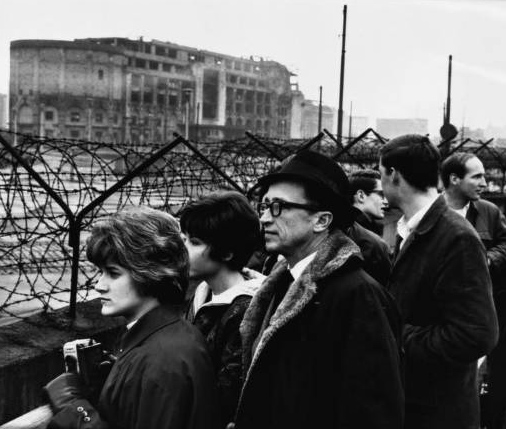 actor, painter and author Adam Kennedy '46, dedicated his novel Love Song to his former professor. Bergmann continued to teach on a part-time basis until 1984.
"The reason I stayed in the (teaching) business was the students," Dr. Bergmann said shortly before his retirement.
In 1959, Professor Bergmann was instrumental in helping to create DePauw's overseas studies programs in Freiburg, Budapest and Athens and continued to lead the second semester program in Athens even after his retirement. (at right: an undated photo shows the professor with students at the Berlin Wall)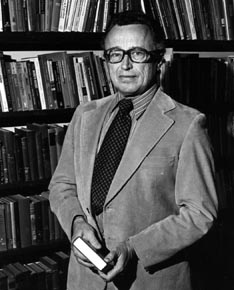 In a 1966 interview, he called study abroad "a maturing experience" for undergraduates.
In his "last lecture", presented in Meharry Hall on May 1, 1982, Bergmann discussed his philosophy of "making the sounds of literature part of the teaching of literature." He read to his audience what he called "the finest modern short story," Freedom is a Hard Bought Thing by Stephen Vincent Benet.
An online death notice is posted here. Remembrances may be sent to Folger Shakespeare Library, Jean and Frederick Bergmann Book Purchase Fund, 201 E. Capitol St. SE, Washington, D.C. 20003.
Back