Dan Ryan is 'Athlete of the Week' -- Bring on the Bell!
November 15, 2002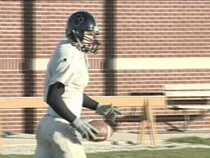 November 15, 2002, Greencastle, Ind. -

[DOWNLOAD VIDEO: "See The Ballad of the Monon Bell" 9364KB]

[DOWNLOAD AUDIO: "Hear The Ballad of the Monon Bell" 2900KB] With the countdown to Saturday's 109th clash between DePauw University and Wabash College winding down, excitement is mounting over a game that could be among the most hard fought in the history of the Monon Bell rivalry. Wabash College is undefeated after nine games, has won sixteen consecutive contests and will go to the Division III playoffs for winning their conference. But DePauw is 7-2, plays in the rough-and-tumble Southern Collegiate Athletic Conference, and its only losses have been at the hands of 4th ranked Trinity, and #8 Hanover, and the Tigers battled both of those undefeated squads to the finish.

[DOWNLOAD VIDEO: "1955 Monon Memory" 1772KB]Kickoff is set for 1 p.m. eastern time at Little Giant Stadium in Crawfordsville, and while tickets are sold out (and have been for almost two weeks),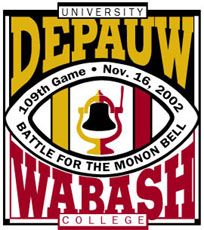 fans can gather and watch the telecast of this year's game at alumni parties being held in 45 cities across the nation (for more information, click here). The PBS television stations in Indianapolis (WFYI/Channel 20) and Merrillville (WYIN/Channel 56) will also carry the game live. If you can't make it to one of the alumni parties, but have access to a large-dish home satellite system (the game cannot be accessed on small-dish systems), you can pull in the game on C-band at Galaxy 3C, transponder 7, or on KU-band at SBS-6, transponder 5. Veteran sports broadcaster Jerry Baker will handle the play-by-play. He'll be joined in the booth by Rob Doyle '82, the starting quarterback on coach Nick Mourouzis' first team at DePauw and a member of the DePauw Athletic Hall of Fame.

[DOWNLOAD VIDEO: "1990 Monon Memory" 3182KB]The media spotlight on the Monon Bell game is descending upon west central Indiana.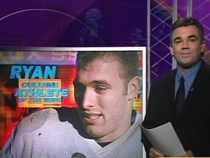 Indianapolis Fox affiliate WXIN/Channel 59 has named DePauw senior wide receiver Dan Ryan its "Athlete of the Week."

[DOWNLOAD VIDEO: "1990 Monon Memory" 3182KB]
[DOWNLOAD VIDEO: "See 'Tease' Here" 360KB]
[DOWNLOAD VIDEO: "Dan Ryan, Athlete of the Week" 2800KB] "All Dan Ryan does is catch touchdown passes," noted reporter Chris Hagan. "Forty-one in fact, more in a career than any player in NCAA history in the state of Indiana."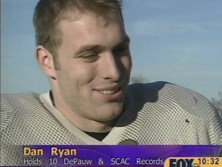 "The records are there to be broken," Ryan, who holds 10 SCAC and DePauw all-time marks, tells the station. "I have no doubt that someday these will all be broken, too." Coach Nick Mourouzis adds, "I know there are several teams that put three guys around him and he's still catching the football... I don't think there's anyone that can stop him."
Ryan calls the battle for the Bell "huge," adding, "We're really pumped for it. They're a really good team, and we're looking forward to going up there and seeing what we can do."

[DOWNLOAD VIDEO: "2001 Monon Memory" 4124KB]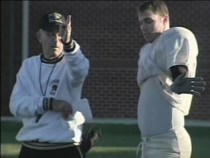 Meanwhile, the Indianapolis Star's Steve Slosarek points out, "Fans have until today to pre-order the DVD for this year's Monon Bell football game between DePauw University and Wabash College. Copies will be $12 for those calling 1-765-658-4626 or visiting www.depauw.edu. The price rises to $15 after today." You can access an online order form by clicking here. Slosarek's column is accessible here.

[DOWNLOAD VIDEO: "1974 Monon Memory" 1811KB]Another Star writer, Jeff Rabjohns, notes "The Monon Bell Classic between Wabash and DePauw has generated national interest throughout the years. This year, the 109th meeting in the series,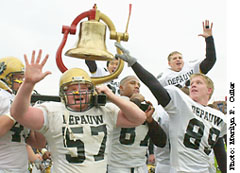 US News and World Report will be in Crawfordsville, Indiana, for the game." The US News writer has actually spent this week on both campuses chronicling the build-up to the annual small college football rivalry that is steeped in tradition (read the Rabjohns' mention at the Star's Web site here).

[DOWNLOAD VIDEO: "2000 Monon Memory" 1639KB]DePauw enters this year's Bell bash leading the overall series 50-49-9. To learn more about the 2002 DePauw football Tigers, click here. You can access DePauw.edu's extensive Monon Bell area here. Come to DePauw.edu tomorrow evening for complete coverage of the 2002 Monon Bell, including video highlights, game summaries, photos and statistics.
Back