Historian Douglas Brinkley Offers Insights on John Kerry, Vietnam & Campaign 2004 in Crain Lecture
April 5, 2004
April 5, 2004, Greencastle, Ind. - "People thought I was nuts doing a book on John Kerry," author and historian Douglas Brinkley said this afternoon in a Gertrude and G.D. Crain Jr. Lecture at DePauw University. Brinkley's book, Tour of Duty: John Kerry and the Vietnam War, was released in January, when Kerry's presidential campaign was floundering and getting little media attention.
[DOWNLOAD AUDIO: "A Best-Seller is Born" 443KB] "In December, nobody thought that Kerry was anything -- that he was done -- and I was marketing my book essentially as a Vietnam book, the story of the Vietnam War through one person. Even when I started doing big national media to launch my book in January -- just a few months ago -- I was told to try not to talk about Kerry because nobody cared."
The Iowa Caucus on January 19 changed everything, Brinkley told a standing room only crowd in Watson Forum of DePauw's Eugene S. Pulliam Center for Contemporary Media, for the candidate, the author and his book. A national best-seller, Tour of Duty tells of Senator Kerry's heroism during the Vietnam War.

Brinkley persuaded Kerry to give him access to journals Kerry kept during the conflict, which provide detailed and sometimes jarring accounts of what life was like for troops in Southeast Asia.
[DOWNLOAD AUDIO: "Honoring Our Veterans" 539KB] "It's always important to pay homage to people in a democracy like ours, and on a campus this beautiful and a state with many freedoms to realize that freedom comes at a cost," Brinkley told his DePauw audience. "And whether Vietnam was a political mistake or not, there are 58,000 soldiers that were killed there...
[DOWNLOAD AUDIO: "Troubling Times" 1012KB] At this time, what's so troubling to me is these Vietnam veterans are approaching 60 or retirement age -- and you're witnessing the indifference of people toward Vietnam veterans,
who have never been given a parade, who have been stoned and ostracized [and] deemed outcasts, have been turned into cartoons in Hollywood movies -- and now they're getting their [Veterans Administration benefits] slashed. What kind of a society are we that sends our people into war, and when they come home we treat them like dirt simply because the politics of the moment failed? If we're going to be a society that's willing to be a global policeman or root out the evils of terrorism in the world, we also have to be a society that takes care of our veterans when they come back... We don't do a very good job of that. The Vietnam story is perhaps the most glaring example that we have to live with. It's time that we said 'thank you' to a generation that we've never said 'thank you' to."
Brinkley, whose other books include Wheels for the World: Henry Ford, His Company, and a Century of Progress, 1903-2003 and The Unfinished Presidency: Jimmy Carter's Journey Beyond the White House, stated, "There is a very stark ideological difference between John Kerry and George W. Bush."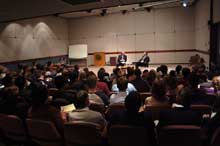 Brinkley says in 2000, Bush and Democratic contender Al Gore were not far apart ideologically -- Bush was considered the centrist governor of Texas and Gore was a "Clinton Democrat." This time around,
[DOWNLOAD AUDIO: "Decisive" 178KB] "I think it's a very decisive election, because in truth [Kerry] is more liberal than Al Gore, and I think that there's a progressive agenda to John Kerry versus a very conservative agenda with Bush."
Whom does the biographer think his subject will pick as a running mate? Not Hillary Rodham Clinton.
[DOWNLOAD AUDIO: "VP Hillary?" 372KB] "There's really two different Democratic parties right now: there's the Clintons

and Terry McAuliffe and the DNC [Democratic National Committee] and then there's the Kerry upstarts. John Kerry had one of the great advantages in life by being considered [unable] to get the nomination in December. He watched every Democrat in the country flee from him, and the Clintons really stick the knife in his back a bunch of times, so he's able to really see who was loyal to him and who wasn't. That's a very useful thing in life."
Brinkley believes Kerry's top choice will be former Missouri Congressman Richard Gephardt, with North Carolina Senator and Kerry's one-time rival for the presidential nomination John Edwards as second on the list. The historian says Kerry and Gephardt are old friends, and that the congressman can help carry the state of Missouri for the Democrats and galvanize support throughout the midwest, perhaps the key battleground this fall.
[DOWNLOAD AUDIO: "A GOP Switch" 730KB] "I think it's a mistake for the Republicans to keep Dick Cheney,"
Brinkley asserted, calling Cheney "one of the most significant vice presidents in American history." But Cheney's health problems may limit his effectiveness on the campaign trail, Brinkley says, and controversy over the Army giving a military contract to Halliburton -- a company once run by Cheney -- without any bidding, could create problems for the Bush campaign. Plus, Cheney's home state, Wyoming, is already solidly Republican. "I don't think Cheney enhances Bush. He doesn't bring in moderates, doesn't bring in independents. I predict -- and I don't like making predictions as a historian -- that Cheney will step down after he fund-raises through the summer with conservative groups due to health reasons, and there very likely could be a new Republican VP candidate announced at the Republican Convention in August in New York City." Brinkley says the GOP short list could include Homeland Security Chief Tom Ridge and former New York City Mayor Rudolph Guiliani.
Rance Crain, president of Crain Communications and a member of DePauw's Class of 1960, endowed the new lecture series and was on hand for today's event. He was introduced to the audience and presented with a DePauw sweatshirt by Ken Bode, Eugene S. Pulliam Distinguished Professor of Journalism,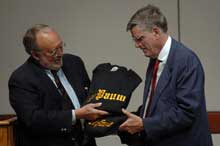 who coordinates and moderates the Crain Series. The Lecture Series, which honors Mr. Crain's parents, is designed to enrich the DePauw environment in the area of public affairs and public issues.
David Keene, chairman of the American Conservative Union, will present the final Crain Lecture of the academic year, Monday, April 26 at 4:15 p.m. in Watson Forum. Now the leader of the nation's oldest conservative lobbying organization, Keene has worked in the presidential campaigns of Ronald Reagan, George H.W. Bush and Bob Dole. He also writes a weekly column for the Capitol Hill newspaper The Hill.
Back