Author James B. Cash '57 to Speak in Ohio, Newspaper Notes
April 6, 2004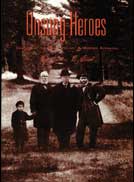 April 6, 2004, Greencastle, Ind. - James B. Cash, author of Unsung Heroes: Ohioans in the White House; A Modern Appraisal and a 1957 graduate of DePauw University, will be the featured speaker for the spring meeting of the Fairfield Heritage Association, April 15 in Lancaster, Ohio, a story in the Lancaster Eagle-Gazette notes. The newspaper says Cash's book "transforms Ohio's presidents from lifeless snapshots in history into exciting leaders who had an impact on our nation as it grew and changed."
The story adds, "Cash worked as a contract specialist for the Air Force and NASA in Ohio. He later moved to the Washington, D.C., area, where he worked in contracting and grants for the National Science Foundation, the Office of Economic Opportunity, and the National Institutes of Health. He retired early from the government to accept a position as executive director of Maryland Medical Research Institute in Baltimore, an organization involved in the design and management of biomedical clinical trials. He was also a co-founder of Clinical Trials and Surveys Corp.
Cash and his wife now live in Kettering, Ohio, where he is engaged in public speaking and the writing and publication of books. He has been appointed to the Ohio Presidents and Politics Advisory Subcommittee of the Ohio Bicentennial Commission and is a speaker for the Ohio Humanities Council Speakers Bureau."
Access a Cincinnati Enquirer article that quotes James Cash here. Read more about the Fairfield Heritage Association, a non-profit organization that supports and staffs with volunteers two museums in Lancaster, by clicking here.
Back