DePauw Among 81 'Best Value' Colleges & Universities in New Guide
April 18, 2005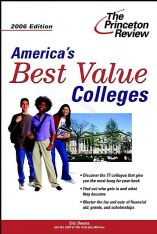 April 18, 2005, Greencastle, Ind. - Citing DePauw University's "demanding academics" and noting that DePauw is "especially strong in the area of merit-based awards, the Princeton Review today named the University one of the nation's "best value" undergraduate institutions. The New York-based education services company chose DePauw as one of 81 schools it recommends in the new 2006 edition of its book, America's Best Value Colleges, which goes on sale tomorrow. The book is a guide to colleges with outstanding academics, generous financial aid packages and relatively low costs. It includes public and private colleges and universities in 35 states.
The Princeton Review selected the schools for the book based on data the company obtained from administrators at over 350 colleges, and surveys of students attending them. "We used over 30 factors to rate the colleges in four categories: Academics, Tuition GPA (the sticker price minus average amount students receive in scholarships and grants), Financial Aid (how well colleges meet students' financial need), and Student Borrowing," says Robert Franek, vice president of publishing for the Princeton Review. "Bottom line: the 81 schools that met our criteria for this book are all great college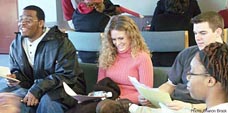 education deals."
"Undergraduates stream here for first-rate programs in business, which include the Management Fellows Program with its coveted internship opportunities," the book's editors write. "They're also drawn by top departments in computer science and technology, media studies, the sciences, and music. Distribution requirements lean heavily toward the humanities and communications, guaranteeing that undergrads will leave with a strong liberal arts education and will have endured a challenging, heavy workload ... Small, discussion-based classes are led by professors who hold their pupils firmly to high academic standards," the book states.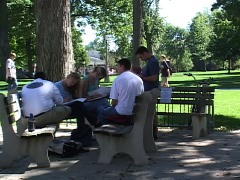 America's Best Value Colleges also notes that "DePauw scatters its graduates throughout the professions -- financial services, government, medicine, science, consulting, entertainment, non-profit/social service, and education all fall into the mix. Standard & Poor's ranks the school eighth among over 800 liberal arts schools as a producer of top business executives. The school's top-notch School of Music helps populate the music world, while the Information Technology Associates Program sends many grads out into the world of IT."
Known for its test-prep courses, books, and college and grad school admissions services, the Princeton Review is an education services company not affiliated with Princeton University or ETS.

DePauw's "best value" ranking is the latest in a series of accolades the University has recently received from national publications. U.S. News & World Report has ranked DePauw in the nation's top tier of national liberal arts colleges for five consecutive years. The Princeton Review's annual publication, The Best 357 Colleges: 2005 Edition, also gives DePauw high marks for its academics and social scene, as does the 2005 edition of the Unofficial, Unbiased Guide to the 331 Most Interesting Colleges. The National Survey of Student Engagement finds that students at DePauw University enjoy significantly more academic challenges, interactions with faculty, collaborations with others and enriching educational experiences than students at peer institutions and the national average at all colleges and universities. An October 2004 article in Atlantic Monthly cited the value of a DePauw degree, and a national survey

posted at Forbes.com lists DePauw as America's #3 "most connected campus." Finally, College Prowler's guide notes that "DePauw has many highly acclaimed professors. They love what they do and want to be here," the text continues. "They're smart and they want their students to rise to their highest potential. They make their pupils work hard. So, be prepared to hold your own."
Prospective students who would like more information on DePauw University, including access to an online application form, can click here.
Back