Doonesbury Belongs on the Editorial Page, Declares Prof. Ken Bode
August 19, 2005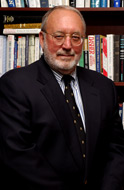 August 19, 2005, Greencastle, Ind. - "Recently, a letter to the editor from an offended reader included a suggestion I heartily endorse, namely that the comic strip Doonesbury be moved to the Star editorial page," begins Ken Bode's weekly op-ed in the Indianapolis Star. Bode, Eugene S. Pulliam Distinguished Visiting Professor of Journalism at DePauw, who admits to being "an everyday Doonesbury reader, continues, "From the start, cartoonist Garry Trudeau has blurred the distinction between a comic strip and an editorial cartoon, and therein lies the challenge for readers and editors. No issue is out of bounds for its characters and no comic strip has been dropped as often for offending material."
The professor and former network news reporter notes that the comic strip has been dropped by other newspapers after tackling controversial subjects. "In real life, Trudeau definitely supports Democrats, but in the strip he shoots the windows out on both sides of the street," Dr. Bode declares. "Over the years his characterizations of Democrats and Republicans are equally biting. Ted Kennedy: 'Suffers

from the family fondness for a well-turned ankle.' Jerry Brown: 'America's top flake, with a million ideas and a genuine commitment to none, the attention span of a five-year-old' ... Trudeau's latest crusade is the Iraq war. B.D., his main character, volunteered for Vietnam to get out of writing a term paper, then was called back for Gulf War I. Reactivated again for Iraq, B.D. was wounded, lost part of his leg and is now suffering from post-traumatic stress disorder. Trudeau explains that giving B.D. a grievous wound allowed him to 'set in motion a sustained, detailed narrative about life irrevocably changed by war.'"
Bode notes that "Trudeau lampoons the war and its management, military and civilian, but he always honors the troops." He argues that the Pulitzer Prize-winning strip is "buried"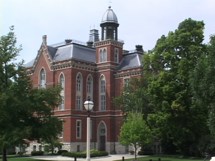 on the Star's comics page. "In 1973, the Lincoln Journal was the first newspaper to move Trudeau to its editorial page. If the Star did likewise, Doonesbury would have a larger, more influential readership.
Read the complete essay at College News.org.
Ken Bode's other recent columns can be accessed here, here, here, here, here, here,here, here, here, here, and here.
Source: Indianapolis Star
Back