Percy Julian '20 Receives William Procter Prize for Scientific Research
November 22, 1974
November 22, 1974, Greencastle, Ind. - Percy Lavon Julian, a 1920 graduate of DePauw University, is the recipient of the William Procter Prize for achievements in scientific research. Dr. Julian received the award at the national convention of Sigma Xi, the Scientific Research Society of North America, which took place in Fredericksburg, Virginia.
Graduated from DePauw with Phi Beta Kappa and valedictory honors in 1920, Percy Julian earned a master's degree at Harvard and the Ph.D. at the University of Vienna. His subsequent research brought about development of a low cost method of producing cortisone, as well as a synthethic drug for the treatment of glaucoma, and a fire-fighting foam that saved thousands of lives during World War II. The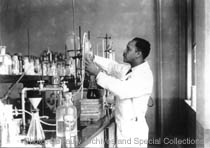 founder of research laboratories in the United States, Mexico, and Guatemala, the 75-year-old Julian is presently director of Julian Research Institute in Franklin Park, Illinois, and president of Julian Associates of Chicago.
A member of DePauw's Board of Trustees, Dr. Julian was the first recipient of the University's McNaughton Medal for meritorious public service. He also received an honorary degree from his alma mater in 1947.
Sigma Xi has more than 100,000 members and is a leading scientific organization dedicated to the encouragement of pure and applied research in all scientific fields.
Back