Coach Tom Mont Enters Maryland Sports Hall of Fame
February 19, 1973
February 19, 1973, Greencastle, Ind. - Tom Mont, director of athletics and head football coach at DePauw University, is today being inducted into the Maryland Sports Hall of Fame. The ceremony is taking place at the Hit and Run Club in Baltimore's Memorial Stadium.
A native of Mt. Savage, Maryland, Tommy Mont quarterbacked the Allegany High School football team to the city championship in 1939. He was an all-American honorable mention in his junior year at the University of Maryland and the #3 passer in the nation that season (1942).
Coach Mont played three seasons with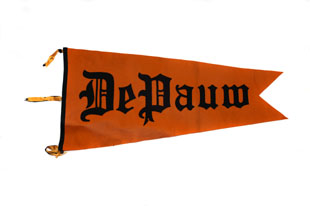 the Washington Redskins as backup quarterback to the legendary Sammy Baugh. He served as an assistant coach with the Redskins in 1950 and a year later entered college coaching as backfield coach under Jim Tatum at Maryland. Five years later, Mont succeeded Tatum.
At DePauw since 1959, Mont was the 1967 "Coach of the Year" in the Indiana Collegiate Conference. A year ago he was named athletic director and head of the department of physical education.
Back