William Kerstetter to Become Chancellor October 1
September 26, 1975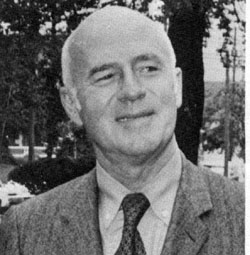 September 26, 1975, Greencastle, Ind. - William E. Kerstetter, president of DePauw University since 1963, was today elected chancellor of the University, effective October 1. The announcement was made by Richard D. Wood, chairman of the board of Eli Lilly & Company and chair of DePauw's Board of Trustees.
"Dr. Kerstetter came to DePauw as president, April 15, 1963, after ten years as president of Simpson College," Wood says. "As chancellor, he will devote a major share of his efforts to the development of the University and to off-campus relations in connection with DePauw's Second Design for a Decade program that is seeking $69 million in added endowment and educational funds."
Wood indicates that he will soon appoint a committee to search for a new president, but that Kerstetter has consented to continue in the role of president as well as chancellor until arrangements are made for a successor.
"I want to pay special tribute to the extraordinary progress that has been made under Dr. Kerstetter's outstanding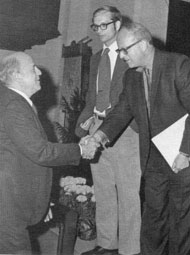 leadership," Wood added. "At a time when many private universities are troubled about their future, DePauw continues on an especially strong course. Applications last year were up 10% and an already distinguished faculty has been further strengthened. Additionally, physical assets of the University have been more than doubled, and the University has operated at a modest surplus each year -- a tremendous accomplishment in a period when so many educational institutions are reporting serious deficits."
The board chair noted the recent dedication of the $7.5 Science and Mathematics Center, the soon-to-be-completed $8 million Performing Arts Center, and programs such as Winter Term and the international studies program, which were initiated during Kerstetter's presidency. "We are exceeding grateful to Dr. Kerstetter for the leadership which has made such progress possible," Wood declared.
Back