Eric Fruth '02 Off and Running as an Entrepreneur
February 15, 2007
February 15, 2007, Greencastle, Ind. - "With my liberal arts background from DePauw, I learned to think on my own," says Eric J. Fruth, co-founder of the Columbus Running Company in Columbus, Ohio, and 2002 graduate of the University. "I then taught myself the business side by going to the library and asking the right people good questions."
Fruth is quoted in a story at Midwest Business.com which examines the results of the "Intuit Future of Small Business Report." The document "proclaims that by 2017 'the face of small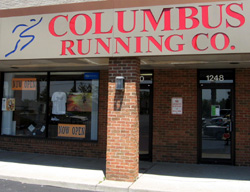 business will dramatically change as seasoned baby boomers, kids fresh out of high school, mid-career women, 'mompreneurs' and new immigrants come together to create the most diverse pool of entrepreneurs ever.' The study says this group will begin to replace the traditional white, middle-aged male entrepreneur. It also predicts that entrepreneurial education will expand significantly."
The 26-year-old Fruth is one of several "mold-breaking entrepreneurs across the Midwest" cited in the article. Nicole Jones writes, "An English writing major who got a master's in English after his
undergraduate work, Fruth never took a single business course and doesn't feel a business degree is a necessity."
Fruth ran track and cross country at DePauw, and was a two-time NCAA Division III All-American and seven-time individual Southern Collegiate Athletic Conference champion. Of his two stores, he says, "I'm passionate about running. Opening this store allowed me to continue filling my life with running while earning a living." He adds, "Your success as an entrepreneur depends on how well you can juggle many unforeseen tasks."
Read the complete article by clicking here. Visit the Columbus Running Company online via this link.
Back