Consumers Digest Rates DePauw as One of USA's 5 'Top Values'
May 1, 2007

May 1, 2007, Greencastle, Ind. - DePauw University is among the "Top 5 Best Values in Private Liberal Arts Schools," according to Consumers Digest. In its June issue, out today, the magazine lists the 100 "top values" in American higher education. DePauw is ranked #4 among private liberal arts colleges.
The magazine analyzed approximately 3,800 institutions of higher learning. The rankings are based on attributes that validate or define the institutions' academic prowess factored against annual cost of tuition and room-and-board. They were derived from a formula that blended the academic excellence of first-time freshman at a school (standardized test scores, high-school rank, grade-point average) with the institution's educational quality (4- and 6-year graduation rate, student-to-faculty ratio, percentage of faculty holding a Ph.D.). That "value-index" score was factored with the cost of attending each school to determine which schools offered the most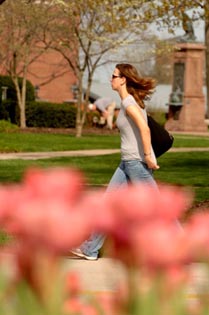 academic value per dollar. The rankings were based on information from 2005-06, the latest school year for which data were available.
"Expert opinions and solid recommendations are two of our strengths," says Randy Weber, publisher of Consumers Digest. "We applied those strengths to this examination of our country's higher-learning institutions. It's designed to help parents and students find schools that will meet families' performance and financial requirements."
Read more about the rankings by clicking here, and visit the magazine online here.
America's Best Value Colleges: 2008 Edition, released last week by the Princeton Review, again lists DePauw as one of 165 colleges offering excellent academics, generous financial aid packages and relatively low costs. For a second consecutive year, DePauw's historic East College is pictured on the front cover of the publication.
The April edition of Kiplinger's Personal Finance ranks DePauw University among the 50 liberal arts colleges in the United States that represent a "best value." The 2007 edition of U.S. News & World Report's "America's Best Colleges"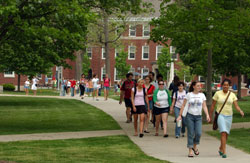 lists DePauw University in the top tier of national liberal arts colleges for a seventh consecutive year. "DePauw is a midwestern match for many more expensive, small, private East Coast Colleges," asserts Barron's Best Buys in College Education. DePauw is again among the The Best 361 Colleges in Princeton Review's 2007 guide, released last summer.
The 2006 National Survey of Student Engagement (NSSE), released in November, found that the experiences of students at DePauw are significantly more challenging, stimulating, interactive and dynamic than those provided at peer institutions and the national average of all colleges and universities. The University performs especially well in the areas of level of academic challenge, active and collaborative learning, student-faculty interaction, enriching educational experiences. (at right: Paul Rusesabagina, the real-life hero of
Hotel Rwanda, meets with DePauw students during his campus visit, April 25, 2005)
The College Prowler guide states, "DePauw is definitely home to the quintessential college experience." The University was among the "50 Best Colleges" featured in the October 2006 issue of CosmoGirl magazine. The Advocate College Guide for LGBT Students ranks DePauw among America's best 100 campuses for lesbian, gay, bisexual and transgender students.
Prospective students who would like more information on DePauw University, including access to an online application form, can click here.
Back