1983 Graduates Brian Lee and Tim Meyer Complete 'Race Across America'
June 22, 2007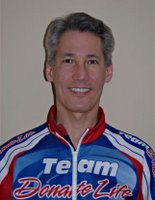 June 22, 2007, Greencastle, Ind. - "Fort Wayne plastic surgeon Dr. Brian Lee calls his cross-country bicycle race experience 'sensory overload.' And he's not just talking about his sore muscles," reports today's Fort Wayne News-Sentinel. Lee and fellow 1983 DePauw University graduate Tim F. Meyer were part of a team of 8 riders that competed in the Race Across America. Calling themselves Team Donate Life Primo, the group left Oceanside, California, on June 12, and arrived in Atlantic City, New Jersey, Tuesday. It took the team six days, 15 hours and 10 minutes to cover the 3,050 miles, "which was sixth-best among the eight-person teams," reports the newspaper. (Lee is seen at top left; Meyer is pictured below right)
"I was able to see the country that we live in, and cross it at 20 mph, which is something not a lot of people do, and never will do," Dr. Lee says. "It makes you realize what we have here, and the good fortune that we have to live here."
The News-Sentinel notes, "Lee's participation in Race Across America (RAAM) came after a discussion last year at a DePauw University fraternity reunion. Lee and his friends talked about triathlons and various other endurance sports when the topic of participating in the RAAM came up. While the race had previously been strictly solo riders, it had recently added corporate teams."
During their journey, Lee, Meyer and their teammates set out to raise awareness of the need for organ donors. "I had a person at Indiana Organ Procurement who would e-mail me the number of patients waiting on the United States transplant list and those on the Indiana list," Lee explains. "I'd carry in my pocket a piece of plastic with those numbers on it. Whenever I was grinding up a mountain, struggling
for breath, I'd think of those people basically struggling for life. This is something I chose to do, but that's not what they'd choose. As we rode across the country, people would see our van with the placard and the flashing lights. It was a good means to spread the word and at least get some information out there."
Access the article at the newspaper's Web site.
Learn how Tim Meyer's sight was saved by an organ donation in this previous story and read about Brian Lee's 1996 mission trip to India, where he performed 40 surgeries in six days.
Back